8 Months After California Camp Fire, First Family Moves Back to Rebuilt Home in Paradise
Eight months after California's deadliest wildfire devastated the town of Paradise, the town issued its first Certificate of Occupancy for a rebuilt home this week.
The northern California town, which lost roughly 90 percent of its population since the blaze, welcomed the Sinclaire family to their rebuilt residence on Monday.
"Today the Town issued the first Certificate of Occupancy to the Sinclaire Family! This means all inspections and steps to rebuild are final and the family can move in to their new home!," the town of Paradise wrote on its Facebook page. "This is a huge milestone in our community's recovery. Congratulations to the Sinclaire family, we couldn't be happier for you!!"
"I'm finally home," Victoria Sinclaire told CNN. "I think I'm going to sleep really good tonight."
Though the Sinclaires managed to escape the Camp Fire that ignited last November and killed 85 people as it spread across 153,000 acres for over two weeks, their house and its contents were destroyed in the blaze.
"I don't know how we made it out," Sinclaire said. "That was terrifying. I'm still in disbelief that we made it out because we were surrounded by fire the entire time."
"When I started seeing photos from the destruction, there was a side of me that wasn't sure if I could move back there," she added. "There was a moment when I thought 'there's no way.'"
With few options, the Sinclaire family — consisting of Victoria, her husband Travis and daughter Emily — moved in temporarily with family in Sacramento, before relocating to Chico to be close to Paradise High School, where Emily was completing her senior year.
The Sinclaire family realized they were determined to rebuild their property when they returned to Paradise six weeks later.
"As soon as we were able to come back up here, and I stood on my property, I felt at home," Sinclaire told CNN. "Even though I was shocked and sad, I still felt more at home than I had in that six weeks."
Roughly 14,000 residences were demolished in the Camp Fire. In March, town officials issued the first two permits to rebuild, before issuing another 84 permits in the following four months.
According to the 2010 U.S. Census data, an estimated 26,800 people lived in the town of Paradise. After the Camp Fire, a door-to-door survey in April found that only 2,034 residents were left.
Sinclaire hopes her family's return will inspire others to also make the move back. "My home is as fire resistant as humanly possible and I feel like the town is taking every step that they need to make sure that we are safe," she said.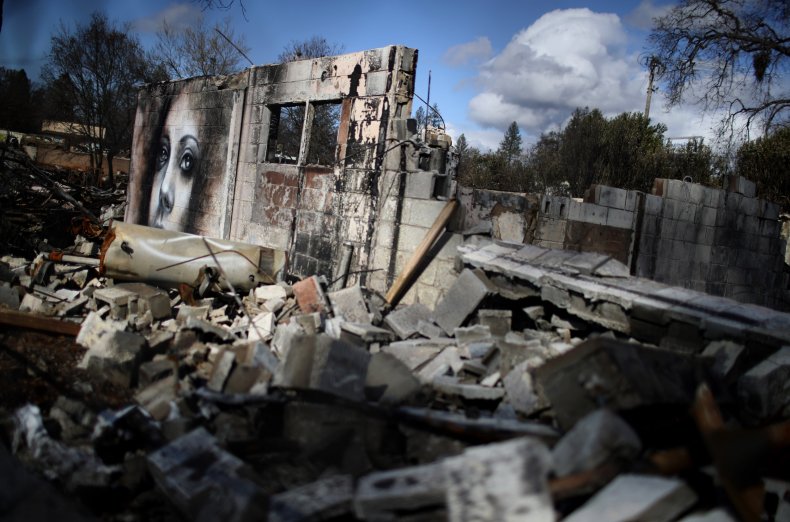 8 Months After California Camp Fire, First Family Moves Back to Rebuilt Home in Paradise | News