8 People in U.S. Have Died After Ingesting Hand Sanitizer Containing 'Toxic' Methanol
A total of eight people have died in the U.S. this year after ingesting hand sanitizers contaminated with methanol, a Food and Drug Administration (FDA) spokesperson told Newsweek. Increasing numbers of people are suffering from poisoning symptoms, prompting warnings from the agency to avoid these products.
The FDA has posted a "do-not-use list of dangerous" hand sanitizers, which is being updated regularly. Some of these products have already been recalled, while others may be taken off shelves soon.
"The U.S. Food and Drug Administration continues to warn consumers and health care professionals not to use certain alcohol-based hand sanitizers due to the dangerous presence of methanol, or wood alcohol—a substance often used to create fuel and antifreeze that can be toxic when absorbed through the skin as well as life-threatening when ingested," a statement issued by the agency in July read.
"In most cases, methanol does not appear on the product label. However, methanol is not an acceptable ingredient in any drug, including hand sanitizer," the FDA said.
Methanol is a type of alcohol similar in chemical structure to ethanol—the main intoxicant in commercially produced alcoholic beverages. The substance is also commonly used in hand sanitizers as a disinfectant.
But while the two substances produce similar effects, methanol is more dangerous to the human body and can be fatal in smaller doses than ethanol.
The symptoms of methanol poisoning can include nausea vomiting, headache, blurred vision, permanent blindness, seizures, coma, permanent damage to the nervous system and death, Dr. Donald Schaffner from the Department of Food Science at Rutgers University told Newsweek.
"It can definitely be fatal which is why there is concern about these products," Schaffner said. "Some symptoms can be similar to those from ethanol intoxication, but some are much worse. Most people seem to be getting poisoned by consuming these gels for the purpose of getting intoxicated."
The FDA says that young children who ingest these products, and adolescents/adults who consume them as ethanol substitutes, are most at risk.
The quantities of methanol found in a single, small bottle of these hand sanitizers would be sufficient to produce severe adverse effects if ingested, according to Schaffner.
"All it would take would be a couple of ounces [of hand sanitizer]," Schaffner said. "It's harder to produce the effects by application to the skin, but it's definitely within the realm of possibility if you are sanitizing your hands a lot."
"Extrapolating from a 1931 toxicology study, I'd estimate you'd need to sanitize your hands 30 times per day for a day to cause harm."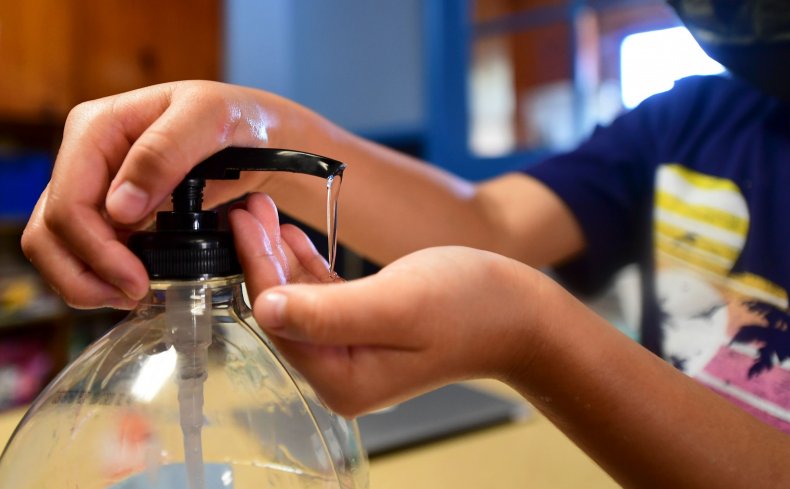 Ongoing FDA testing has uncovered methanol contamination in a wide range of hand sanitizers, with some products containing as much as 80 percent methanol and no ethanol. The agency first issued a warning about methanol-containing hand sanitizers in June, and has issued further alerts since then due to an increasing number of "adverse events."
While the agency encourages people to practice good hand hygiene during the pandemic, using an ethanol-based hand sanitizer if soap and water is not available, they said that consumers need to be vigilant about the products they buy.
"We urge consumers to immediately stop using all hand sanitizers on the FDA's list of dangerous hand sanitizer products," FDA Commissioner Stephen Hahn said in the July statement. "We remain extremely concerned about the potential serious risks of alcohol-based hand sanitizers containing methanol."
"Producing, importing and distributing toxic hand sanitizers poses a serious threat to the public and will not be tolerated. The FDA will take additional action as necessary and will continue to provide the latest information on this issue for the health and safety of consumers."
Anyone who has been exposed to methanol-containing hand sanitizers and is experiencing symptoms should seek medical treatment immediately.