8 People in U.S. Charged With Working on China's Behalf in Plot Involving Night Vision Goggles, Harassment, Stalking
The Department of Justice announced it has charged eight people in the U.S. with allegedly working on China's behalf in a plot involving night vision goggles, harassment and stalking to coerce individuals to return to China "as part of a global, concerted, and extralegal repatriation effort."
According to a press release issued by the Justice Department, a complaint and arrest warrants were unsealed Wednesday in federal court in Brooklyn, New York, "charging eight defendants with conspiring to act in the United States as illegal agents of the People's Republic of China (PRC)."
The release also noted that six other individuals currently face charges related to "conspiring to commit interstate and international stalking."
Court records showed that the alleged plot was known as "Operation Fox Hunt" and "Operation Skynet." According to the complaint, the eight individuals allegedly participated in "an international campaign to threaten, harass, surveil and intimidate" a former Chinese government employee, as well as his wife and daughter, who have resided in New Jersey since 2010.
The press release issued by the justice department states that three of the defendants— Zhu Yong, Hongru Jin and Michael McMahon—were arrested Wednesday and will be arraigned virtually before U.S. Magistrate Judge Peggy Kuo.
Two others—Rong Jing and Zheng Congying—were arrested in the California's Central District, and will appear in that district later Wednesday.
Meanwhile, "Zhu Feng, Hu Ji, and Li Minjun remain at large," the Justice Department wrote in their press release.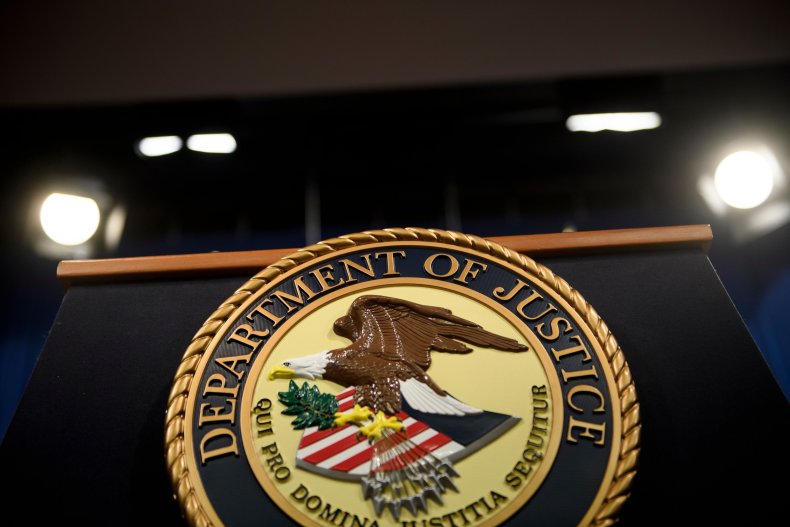 The complaint stated that from April 2017 to April 2019, the family endured harassment and threats from the defendants to return to China and face charges. According to the complaint, one of the threats included a note that read: "If you are willing to go back to the mainland and spend 10 years in prison, your wife and children will be all right. That's the end of this matter!"
The complaint also noted that in April 2017, U.S. border officials interviewed defendant Zhu Feng, at New Jersey's Newark Airport to question him about "his recent activities in the United States," and during a search of his luggage, a pair of night vision goggles were found.
Additionally, the complaint also stated that after the interview, Zhu Feng, texted defendant Hongru Jin, saying: "Delete all of our chat record after reading this [message]. There are some problems. Someone in the U.S. will be looking for you."
At a press conference, Assistant Attorney General for National Security John C. Demers said: "With today's charges, we have turned the PRC's Operation Fox Hunt on its head — the hunters became the hunted, the pursuers the pursued."
"For those charged in China and others engaged in this type of conduct, our message is clear: stay out. This behavior is not welcome here," Demers added.
FBI Director Christopher Wray also spoke about the charges on Wednesday, saying: "The Chinese government's brazen attempts to surveil, threaten, and harass our own citizens and lawful permanent residents, while on American soil, are part of China's diverse campaign of theft and malign influence in our country and around the world."
"The FBI will use all of its tools to investigate and defeat these outrageous actions by the Chinese government, which are an affront to America's ideals of freedom, human rights, and the rule of law," Wray said.
If convicted, "each of the eight defendants charged today faces a maximum sentence of five years in prison," according to the press release.
"Defendants Zhu Feng, Hu Ji, Li Minjun, Michael McMahon, Rong Jing, and Zheng Congying also face an additional charge of conspiracy to commit interstate and international stalking, which carries a maximum sentence of five years in prison," the release stated.
Newsweek reached out to the Department of Justice for comment, but did not receive a response in time for publication