8 Wildly Unfounded Predictions for the 2015 VMAs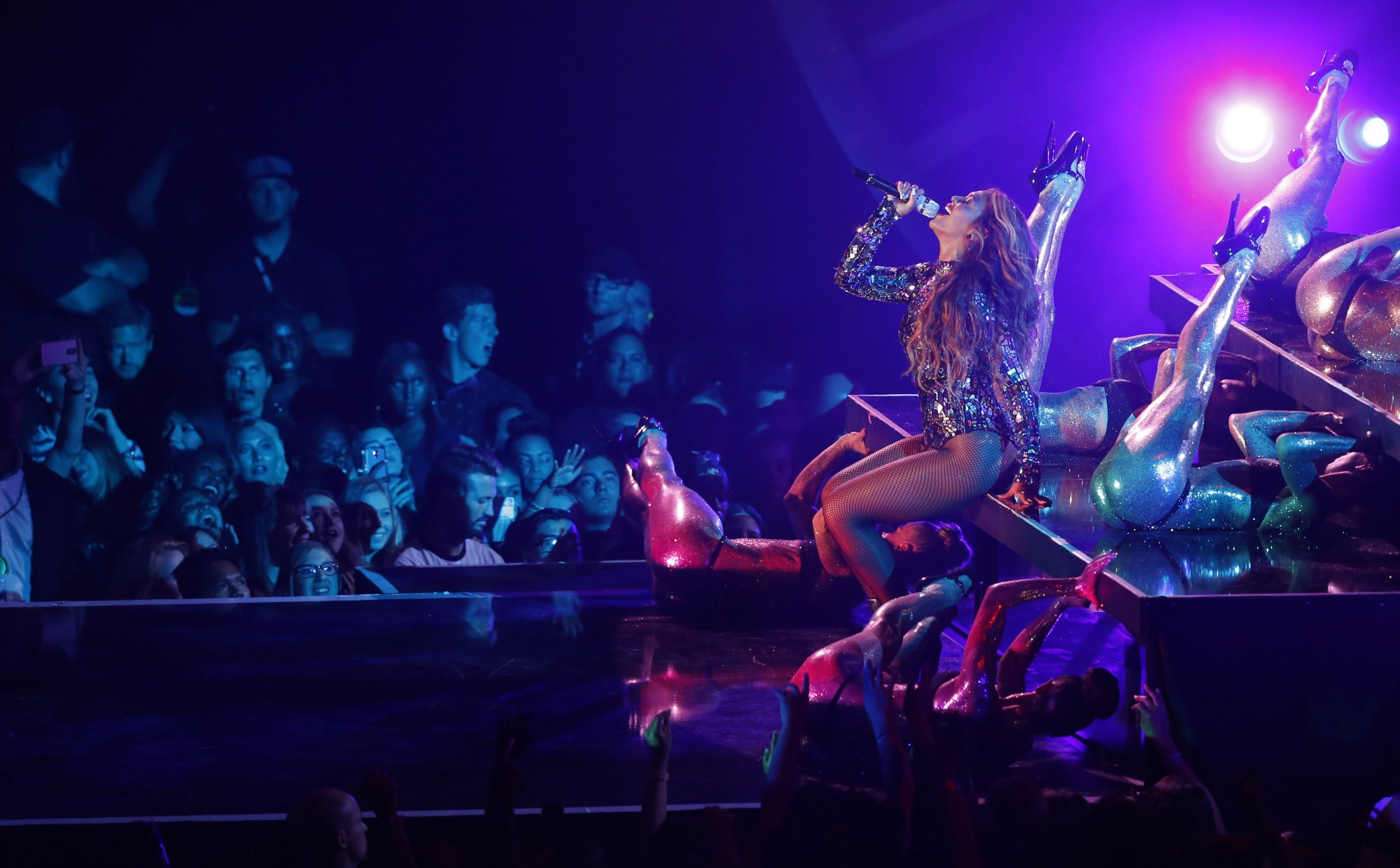 If Grammy night is the music industry's equivalent of prom, MTV's annual Video Music Award show is the last day of school where the senior pranks run rampant. Nothing is off the table, not even Fiona Apple's declarations on the podium that "the world is bullshit," Kanye West interrupting an acceptance speech, or questionable twerks and foam finger dances from this year's host, Miley Cyrus.
The spectacle, which airs on Sunday night, August 30, will feature performances by Robyn, Demi Lovato, Justin Bieber, Pharrell Williams, The Weeknd, Macklemore & Ryan Lewis, A$AP Rocky and more. And though a Moonman win doesn't typically come with the clout of, say, Grammys, the VMA broadcast remains the undisputed Wild West of televised live music award shows, and that unpredictability alone is worth tuning in.
This year should be no exception. Consider the fact that VMA Executive Producer Garrett English recently told Entertainment Weekly that host Miley Cyrus has "free rein" over her approach to the broadcast—meaning that from the time Miss M graces the stage, it's No Rules O'Clock. Given the candy explosions on the VMA advertisements plastered across the award show's host city, it's entirely possible that L.A.'s Microsoft Theater will be transformed into a Lisa Frank factory reject store.
Speculation is pointless, but let's do it anyway. Here are some of our wildly unfounded (though not impossible!) predictions for VMAs 2015:
1. Miley will bring The Flaming Lips' Wayne Coyne out onstage with her.
Cyrus has been working on "avant-garde" music with the Flaming Lips' Wayne Coyne as of late, in an as-yet-untitled seven-track album what will probably be the equivalent of a Willy Wonka & the Chocolate Factory carnival on acid. But Miley, a bona fide master of marketing, could very well use this as an opportunity to tease out her new tunes: She did just tell the The New York Times that viewers and partygoers can expect a "raw" and "psychedelic" show on Sunday.
2. When Kanye West accepts his Video Vanguard Award, Taylor Swift will take the stage to tell him that, while she will let him finish, Beyoncé should have won instead.
Kanye interrupting Taylor Swift's speech at the 2009 VMAs has gone down as one of the most the most shocking incidents in the award show's fairly shock-filled history. And he almost did it again this year at the Grammys, when he took the stage to protest Beck's award for Record of the Year, then retreated. This year, West will be accepting the Michael Jackson Video Vanguard Award for his years of blending "musical and visual artistry to powerful effect" and for having "pushed boundaries and delivered something new with every successive video," according to a statement from MTV. It leaves ample time for Taylor, who is not officially scheduled to perform, to seek revenge.
3. Speaking of T-Swift, it would be pretty insane if Nicki Minaj brought Taylor Swift onstage with her.
Taylor Swift recently wrapped up her 1989 stadium tour in Los Angeles, a nationwide spectacle that will be remembered less by the songs and perhaps more by the 50+ guests, some truly baffling, that Swift brought onstage with her every night of the spectacle. Some of these included half of the Victoria's Secret catalog, Joan Baez, Julia Roberts, the U.S. Women's soccer team, Chris Rock, Serena Williams, Uzo Aduba from Orange Is the New Black and Ciara. If there's any night for the tables to turn and someone to bring out Taylor Swift, it's the VMAs. Ideally, it'll be Nicki Minaj, in an act of hatchet-burying for the MTV-inspired beef.
4. Miley Cyrus will attempt to eat the Moonman statue, revealing that it's just been a hollow chocolate astronaut all along.
VMA winners can expect to take home the signature Moonman statue, presumably honoring humankind's giant leaps in space and otherwise. The Moonman statue was designed by the design firm Manhattan Design in the '80s, cribbing from the Apollo 11 images that were first shown on MTV, as Spin reported last year. Fashion designer Jeremy Scott (of haute McDonald's reappropriation fame) was tapped to redesign this year's Moonman trophy, which comes decked out in a peace sign necklace and wielding MTV's signature flag. It's still unclear what goes into a Moonman, however, and we're hoping Miley sniffs it out.
5. Pharrell may confess once and for all that he's a vampire.
The man doesn't age. In the past, he's denied being a vampire and said that his flawless complexion is due to the fact that "I wash my face." Well, I wash my face too and I certainly haven't spent the last three decades looking like I was carved out of marble, Dorian Gray. Pharrell said he was prepared to go on the record and say that he doesn't "drink people's blood," but he never made mention of possibly giving his soul to Angel from Buffy, or the devil.
6. Logistical horrors will inevitably abound during the virtual reality-sponsored red carpet pre-show.
The VMA red carpet pre-show is a spectacle unto itself, but this MTV decided the surreality of it all to unprecedented heights, partnering with content creator IM360 to provide 360° views of the action. The partnership means that viewers can navigate the scenes themselves from their home computers, confirming that red carpets truly are just a game in which we, the consumers, are the nefarious puppet masters.
7. Justin Bieber runs his mouth.
This one has some factual support. Lately the Biebz has been reinventing himself (a re-re-reinvention of sorts) as an electronica bad boy: First came the suggestive photos depicting the Canadian pop star licking a rather large sharp blade. Now, the former floppy-haired ingenue has released a bouncy, surprisingly listenable new single with Skrillex, "What Do You Mean?" On Sunday, he's slated to perform cuts from his forthcoming album, but given Bieber's penchant for, erm, delinquency, will he make headlines for his performance or for his antics? If you dream it, you can beliebe it.
8. Somebody is going to come out of hiding.
There are always major surprises at the VMAs, but especially lately it seems that some of pop music's biggest stars have been uncharacteristically quiet. It's been over three years since Frank Ocean released channel ORANGE to major critical acclaim, and despite rumors of a new album, there's been little encouragement from him lately. But when Ocean bailed on FYF Fest last week (getting replaced by Kanye West and his special guest Rihanna), theories started swirling about where he could be (perhaps prepping for a VMA-style return). Also long dormant? Adele, who hasn't released the follow-up to 2011's 21 yet, despite rumors last year that a new album was on the way. Billboard announced this week that, according to the singer's label, the LP is slated for a November release—making the VMA's a perfectly timed place to show off a shiny new single.