'Fortnite' Player, 8, Sent Mom's License, Credit Card Information to Stranger Promising V-Bucks
A Lakeville, Minnesota, mom is concerned about the security of her identity and the ability of people to communicate through the video game Fortnite after her 8-year-old son sent her license and credit card information to a stranger.
Fortnite is an online game that was released in 2017. It can be played on a computer, Xbox, PlayStation or on certain iOS devices. The essential premise of the game is that players collect resources, make weapons and tools, and fight for survival in a world where most of humanity has disappeared. Fortnite Battle Royale is a free version of the original game and consists of a battle between 100 players.
While the game is free to download, players can make in-game purchases for products such as characters, outfits, tools and dance moves, which is what Krista Kneeland-Pearson's 8-year-old son, Charlie, did. Kneeland-Pearson told KHOU that her son started spending real money to purchase fictional V-bucks and had blown through a lot without even realizing it.
She put an end to the spending and limited his gaming time, but she explained to KHOU that one night she woke up and noticed the light was on in her son's locked bedroom. When she went into the room, she saw two of her purses on the floor. The discovery of the bags led to Kneeland-Pearson finding messages on the game, phone calls and texts from someone in North Carolina asking her son to send photos of her license and credit cards.
Kneeland-Pearson told KHOU that the person specifically wanted her Visa and promised Charlie V-bucks in exchange for the information. Her son admitted to KHOU that he didn't really want to give the stranger the information but succumbed to the pressure out of fear the stranger would be mad at him.
"It makes me really nervous," Kneeland-Pearson told KHOU. "What is going to happen with all of my information? On top of that, how scary it is that this guy was able to talk to Charlie into doing something behind my back?"
She had a conversation with her son about talking to strangers and not giving them information, which Lakeville Police Department Lieutenant Bill Gerl said is all she can do for the time being because there's nothing illegal about someone possessing the information. It's only illegal for the person to use the credit card or the information on her license.
Lakeville Police Chief Jeff Long told Newsweek that even if the information isn't used, the perpetrator could be charged with solicitation of a juvenile to commit a crime if the person's intent to commit a crime can be proven. The police department has requested various subpoenas and while he couldn't reveal too much about the investigation, Long explained that one of the ways they could prove intent is if the person is found to have done this before or to have multiple identities in their possession. He also told Newsweek that he has no doubt that the police department will be able to find the person behind the messages.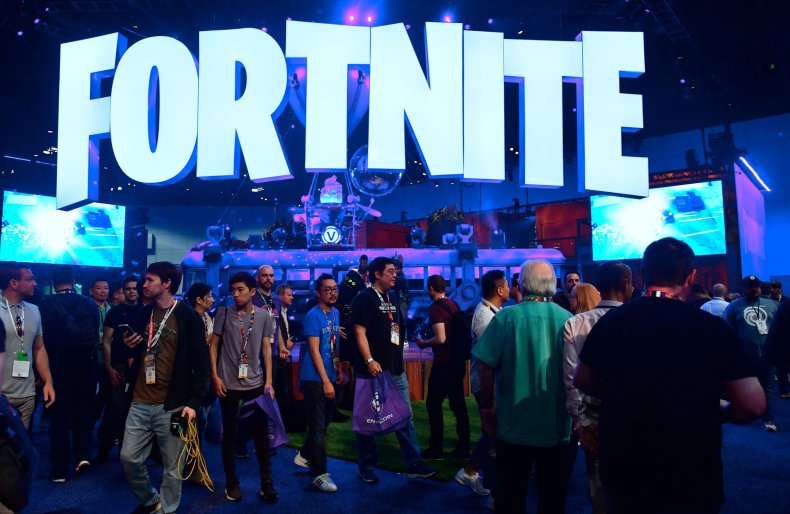 Kneeland-Pearson isn't the only parent to find her child had given away sensitive information to a stranger in the hopes of being able to advance in the game. The Independent reported it's not uncommon for young players to be tricked into giving away their parents' information.
"They're not really interested in the kid. The kid is a piece of collateral damage to get to the kids' parents' payment information," Chris Boyd, a senior malware analyst at Malwarebytes explained to the Independent.
While some scammers build relationships with kids over the chat feature in the game until they get the information they want, others encourage young users to go to websites or download files in exchange for free V-bucks, which end up giving the scammer access to the computer.
Elijah Imani, a 12-year-old gamer, wanted access to advanced levels and characters, so he connected with someone on the marketplace app Offerup who offered his account in exchange for Imani giving him a $50 PlayStation card. After Imani sent him the code for the card, the user blocked him, according to WLUK.
Imani then corresponded with a different Offerup user, who had a five-star rating, and sent the code to another $50 PlayStation card. However, the user once again took the code without ever sending the correct account information.
In an effort to warn users about not falling victim to scams, Fortnite posted the only official websites for the game on Twitter and warned players of scams offering free or discounted V-bucks.
This article has been updated to include the response from Lakeville Police Chief Jeff Long.