A school district in Georgia has introduced a temporary mask mandate after a rash of 80 positive COVID-19 cases amongst its students in the first week of classes. The mandate will be in place temporarily for all staff members and in-person students in the Newton County school district, The Covington News reported. It applies to school buses as well as buildings.
Newton County Superintendent Samantha Fuhrey announced the new mask rules on Friday to go into effect on Monday. In addition to the positive cases, she also cited roughly 200 students that had to be sent home to quarantine over COVID-19 concerns.
"We tried the mask-optional status but now must revert to requiring mask usage due to the considerable spike in cases." Fuhrey's official statement said. "No one likes wearing a mask. I understand that. But if parents and the community want our children to be able to attend school in person we must do this—at least for now."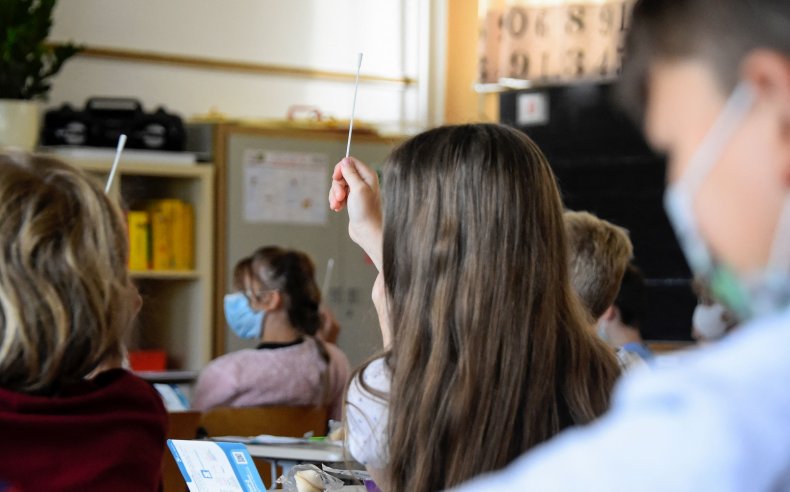 The Newton County school district has approximately 19,000 students, only around 10,000 of which have been attending classes in person. The rest have continued to learn remotely. The district averaged fewer than 10 positive COVID cases in the second semester of the 2020-2021 school year, according to data acquired by The Covington News.
While intended to be temporary, the mandate does not have a firm end date at this time. The district will lift it once positive cases reach a sufficiently lower rate.
"Our primary concern is the health and safety of our students and staff," Fuhrey explained. "As such, we must move forward with a temporary mask mandate until such time that the number of positive cases decrease in our schools and community."
The question of whether or not to mandate masks for students during the upcoming school year has become a hot-button political issue as the pandemic continues. Republican Governor Brian Kemp has refused to implement a state-wide mandate for all schools, leaving any such decision up to schools.
In neighboring Florida, Republican Governor Ron DeSantis has taken a hard line against mandates, even at the school level. A recent executive order from the governor made it possible for the state government to withhold funding from any schools that mandate masks. Despite this, schools in a handful of Florida counties have opted to introduce soft mandates anyway. These rules require masks for all students and staff but allow parents to opt their children out with a written note.