80 Million Young Children at Higher Disease Risk Because of Missed Vaccinations During Coronavirus Lockdowns
While most of the world has been focused on COVID-19, global health experts say the lockdowns triggered by the pandemic are causing families to skip vaccinations that are vital to their young children's health.
As many as 80 million children under the age of 1 may be at higher risk of developing diseases because of missed immunizations since March, according to a report published Friday by the World Health Organization (WHO), UNICEF, the Sabin Vaccine Institute and Gavi, the Vaccine Alliance.
An estimated 53 percent of the 129 countries that reported vaccination data to global health officials said their immunization programs have been disrupted. While some countries described the disruptions as moderate, others said travel restrictions and other measures put in place because of the pandemic had caused immunization programs to halt entirely.
By May 15, at least 27 countries said they were having difficulties administering measles vaccines to young children, while others reported similar problems with immunizations for polio, yellow fever, typhoid, cholera and several other dangerous diseases.
"Disruption to immunization programmes from the COVID-19 pandemic threatens to unwind decades of progress against vaccine-preventable diseases like measles," WHO Director-General Tedros Adhanom Ghebreyesus said in a news release.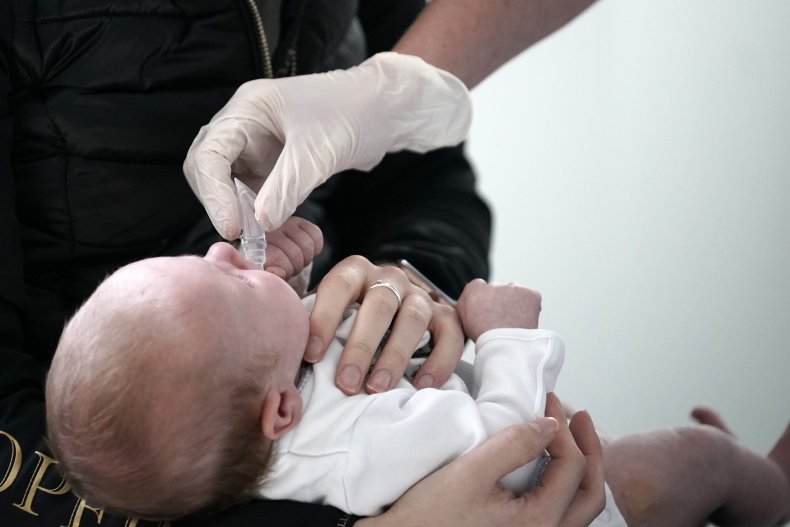 Dr. Seth Berkley, the CEO of Gavi, also raised concerns about the negative impacts skipped vaccines will have on international efforts to expand immunization programs, which have been steadily gaining progress since the 1970s.
"Due to COVID-19 this immense progress is now under threat, risking the resurgence of diseases like measles and polio," Berkeley said in the release. "Not only will maintaining immunization programmes prevent more outbreaks, it will also ensure we have the infrastructure we need to roll out an eventual COVID-19 vaccine on a global scale."
The estimated number of children already at risk of developing diseases that are preventable through vaccinations is likely to rise, UNICEF communications specialist Sabrina Sidhu told Newsweek. "The data is changing so quickly," she said, adding that it was difficult to calculate the true number of vaccinations missed, as many countries remain under lockdown.
According to the global health data that researchers gathered, reasons for missed vaccinations ranged from parents' hesitation to bring children into medical facilities to canceled immunization events. Restrictions on travel and the availability of both health care workers and personal protective equipment also factored into medical professionals' ability to vaccinate children, Sidhu said.
Though the full impact of skipped or postponed vaccinations won't be known for a while, global health experts said it was important for caregivers to get children vaccinated as soon as pandemic restrictions enable them to do so.
"While circumstances may require us to temporarily pause some immunization efforts, these immunizations must restart as soon as possible, or we risk exchanging one deadly outbreak for another," UNICEF Executive Director Henrietta Fore said in the news release.
Sidhu echoed Fore's call for a quick return to vaccination practices. "What we're trying to tell parents is that they need to follow whatever national guidelines are in place in that particular country," she said. "When it's possible, as soon as lockdown measures lift, parents should make it a priority to get their children vaccinated."