80 Percent of Americans Are in Favor of Shelter-in-Place Measures to Curb Coronavirus Spread
The vast majority of Americans nationwide are in favor of maintaining shelter-in-place measures to curb the spread of the novel coronavirus, including a significant majority of Republicans, independents and Democrats, a new survey showed.
Polling conducted by the Henry J. Kaiser Family Foundation (KFF) from April 15 to 20 showed that 80 percent of Americans support strict shelter-in-place measures to protect people and limit the spread of COVID-19. Only 19 percent of respondents believed that the social distancing orders were placing an unnecessary burden on people and the economy.
An overwhelming number of Democrats, 94 percent, backed the stringent stay-at-home orders. Among independents, 84 percent supported the shelter-in-place restrictions, while 61 percent of Republicans also backed the measures.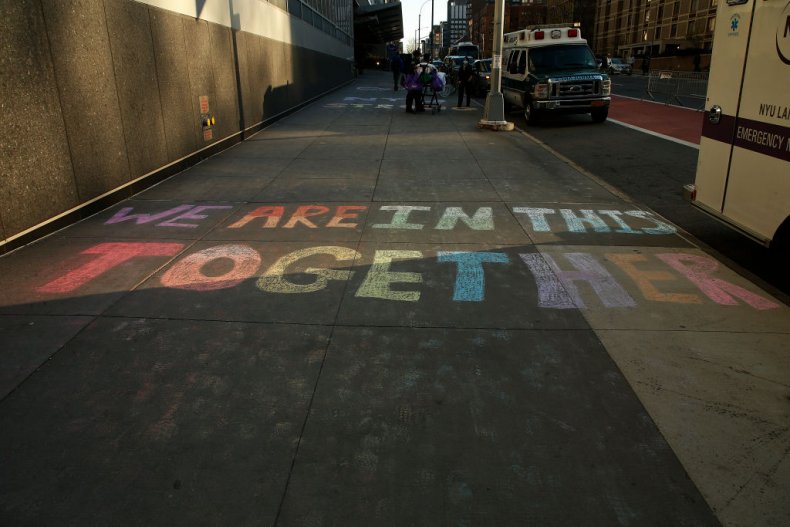 The new polling data came as some Republican governors, such as Georgia's Brian Kemp and Florida's Ron DeSantis, push to begin to re-open their economies despite the concern of health experts and many within their states. Right-wing demonstrators have also launched protests in cities across the country to protest against the stay-at-home orders, arguing that the economic damage is worse for the country than allowing the virus to spread unmitigated.
But the KFF poll, along with previous survey data, shows that a sizable majority of Americans across partisan lines prefer strict measures remain in place for the time being. The KFF data also showed that about 8 in 10 Americans are willing to stay-at-home for at least another month, with 34 percent saying they could do so for at least six months. Even 68 percent of Republicans said they'd be willing to shelter-in-place for at least another month.
Several other recent polls have shown that the majority of Americans are more concerned that their state governments will be too fast to re-open their respective economies. A poll conducted in April by Pew Research Center found that 66 percent of respondents said they were worried that their state government would move too quickly to reopen businesses. Only about a third, 32 percent, said they were concerned this would happen too slowly.
Separately, a CBS News poll released Thursday showed that 63 percent of respondents were concerned their state would reopen too quickly, while just 37 percent were worried this would occur too slowly. Additionally, only 13 percent of those surveyed said that they would "definitely" return to public places if stay-at-home orders were lifted now.
While President Donald Trump has voiced support for protests against stay-at-home orders and pushed for reopening the economy soon, he also raised concerns about Georgia's Governor Kemp's plan to reopen some businesses on Friday.
"I told the governor of Georgia, Brian Kemp, that I disagree strongly with his decision to open certain facilities," Trump said during the White House Coronavirus Task Force press conference Wednesday.
As of Thursday morning, there were more than 842,000 people confirmed to have contracted the novel coronavirus in the U.S. Of those, more than 46,000 have died while over 76,000 have already recovered.