80 Percent of Louisiana Hospital Patients Unvaccinated as Admissions Double in a Week
The Louisiana Department of Health (LDH) announced Sunday that hospitalizations in the state doubled in a week's time in the wake of a COVID-19 surge caused by the Omicron variant.
The agency released a statement that urged people to follow public health guidance. The announcement also noted that 80 percent of people currently hospitalized with COVID-19 in Louisiana are not fully vaccinated.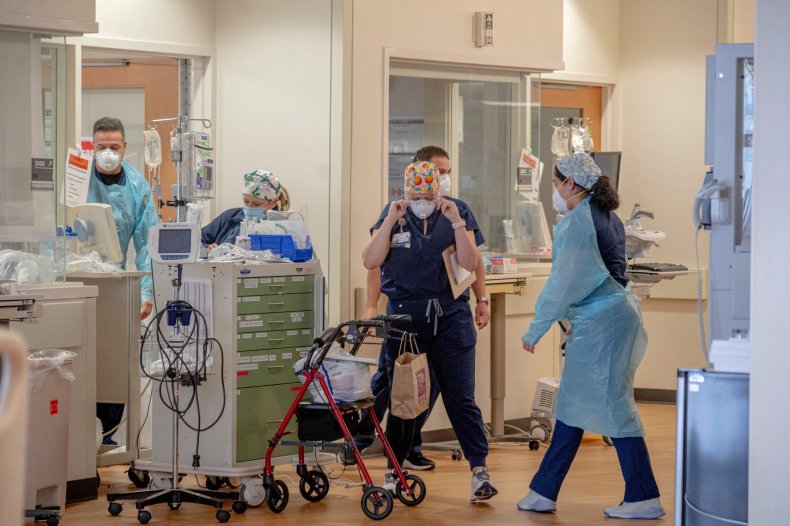 The department reported that 449 people in Louisiana were hospitalized with COVID-19, which it said was twice as many people from a week earlier. The state's COVID hospitalization rate is now at the highest level since Louisiana's last surge in mid-October, the release said.
On December 23, the LDH said that Omicron cases represented more than 84 percent of the state's COVID cases. That number is above average for the U.S., according to data from the Centers for Disease Control and Prevention (CDC), which recently reported that Omicron accounted for about 73 percent COVID cases nationwide.
The LDH said 9,545 new COVID-19 cases out of 59,139 new tests have been reported to the state since December 23. That testing data does not include results from at-home tests.
Last week, the department warned that 65 percent of parishes in the state were at high or substantial risk of spreading COVID-19. Two weeks earlier, that figure was said to be at around 35 percent.
"In light of this rapidly evolving situation and because we know families may be traveling and gathering ahead of New Year's Eve, LDH is urging everyone to follow public health guidance to stay safe," the agency wrote in its Sunday release.
People were urged to wear masks in all indoor spaces to reduce transmission, "regardless of vaccination status," as well as to wear masks "in all indoor private spaces with people who are not in your immediate household." The statement said people should also wear masks "outdoors when not able to social distance."
Residents were advised to work remotely if possible during this time and to limit their exposure to people outside of their households.
Getting regular COVID-19 tests was also recommended, especially for people traveling or gathering with individuals from outside their households. The Louisiana Department of Health said people should test one to two days before traveling and three to five days after traveling.
According to the CDC, unvaccinated people are 14 times more likely to die and eight times more likely to be hospitalized due to COVID than a person who is fully vaccinated.
Newsweek contacted the Louisiana Department of Health and Louisiana Governor John Bel Edwards for comment but did not hear back in time for publication.