A new analysis has shown that the overwhelming majority of publicly listed companies that received coronavirus stimulus loans from the federal government, which were intended for struggling small businesses, do not plan on returning the funds.
The study was conducted by Reuters, which analyzed data from the market research firm FactSquared. The news organization found that as of May 22, only 68 out of 424 public companies had returned the funds, with those declining to do so and claiming that they need the funds to maintain operations.
Companies who took the loans despite having enough resources to get through the financial crisis, were required to return the money by May 18 without facing any penalties. But the Reuters analysis found that at least 76 companies who did not return the loans had "enough cash and cash equivalents to cover operating costs until at least June."
Newsweek has reached out to the Treasury Department, which has been overseeing the release of stimulus aid, for comment.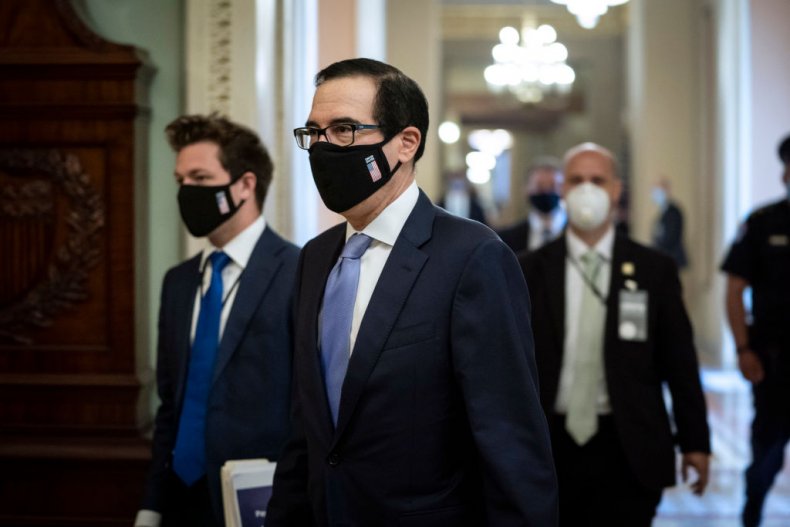 Reports began circulating in April that many large companies had received millions in loans through the program, despite the intent being to prop up struggling small businesses. President Donald Trump and Treasury Secretary Steven Mnuchin have both been critical of large companies taking advantage of the program and urged them to return the funds.
Mnuchin said during an April 21 press conference that companies who kept the loans could face "severe consequences."
But the Trump administration has faced significant criticism for not doing enough to ensure the loans are directed to businesses that need the funds the most. Legal experts have also said it is unlikely that companies that exploited the program could face serious repercussions.
"I don't see anybody being convicted for this, honestly," Scott Pearson, a partner at Manatt, Phelps & Phillips told CNBC. "What will scare people away is the threat of being accused. The suggestion there is criminal liability for a company that has a good argument that they were eligible for these loans based on the structure of the CARES Act is ludicrous."
Some Democratic lawmakers have urged greater oversight of the funds approved by Congress. Some large companies that received millions in assistance--including Ruth's Chris Steak House, Shake Shack, and the Fiesta Restaurant Group--have returned the funds.
"Unfortunately, we know that unscrupulous business owners have been applying for and taking funds that others have a much more urgent need for," Representative Katie Porter of California said in an opinion article published by NBC News on May 12.
"As a result, our smallest, most vulnerable businesses are losing out and at risk of disappearing," the congresswoman warned.