80 Workers at Two In-N-Out Restaurants Test Positive for COVID-19 One Month After Opening
A large number of workers at two new In-N-Out Burger restaurants in Colorado have contracted COVID-19, with at least 80 employees reportedly having testing positive for the virus only one month after the restaurants opened.
A total of 60 employees at the fast food chain's restaurant in Colorado Springs have tested positive, while another 9 staff members are "suspected" of having the virus, according to a Thursday report from The Denver Post. Another 20 confirmed positive tests and 16 suspected cases were reported among employees at an Aurora location, bringing the total number of workers believed to be infected to 105. State health officials have not linked any positive cases among customers back to the restaurants.
"During the past few weeks we have experienced a concerning number of Colorado Associates who have tested positive for COVID-19," In-N-Out Vice President of Operations Denny Warnick said in a statement obtained by Newsweek. "Our thoughts and prayers are with our Associates and we are hopeful for quick recoveries for each of those affected. Of course, all positive Associates and those who have had close contact with them have been excluded from the workplace."
"We continue to work closely with our public health agencies and have confirmed the appropriate steps to help protect our communities," he added. "These steps include: limiting staff to the minimum number necessary to serve our Customers, using staff "cohorts" to limit possible exposure, and limiting dining room access to takeout orders only while ensuring appropriate physical distancing."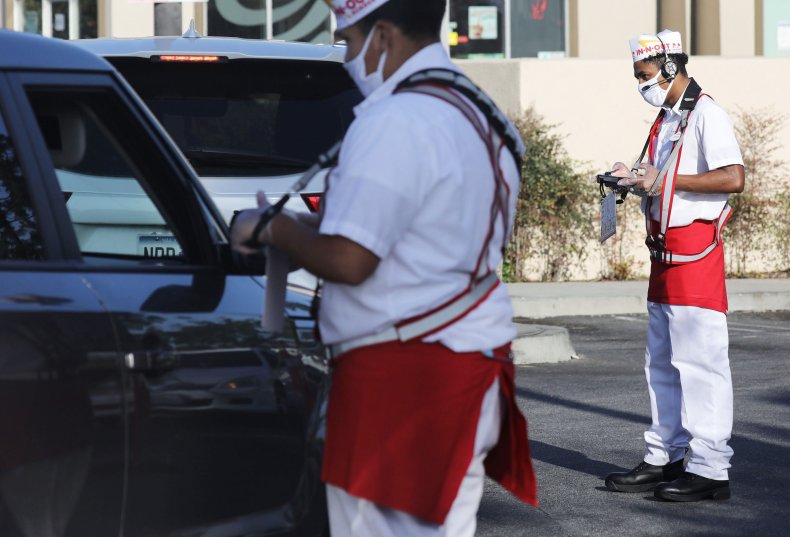 Several other fast food restaurants, including franchise locations of McDonald's, Chick-fil-A and Wendy's all have reportedly have outbreaks in the state as well, although cases are limited to fewer than 10 per restaurant. As with the In-N-Out outbreaks, no customer infections have been linked to visiting the restaurants.
Experts do not believe that COVID-19 is transmitted by food and visiting a fast food restaurant is considered a relatively unlikely way to contract the virus, although potential contact with any infected individual remains a concern, regardless of the setting. All of the chains with infections among workers remain open because state officials do not require that restaurants with outbreaks close.
The two Colorado In-N-Out restaurants opened on November 20 and quickly drew massive crowds despite the pandemic. Enthusiasts of the popular California-based chain, clamoring for a "Double Double" burger or "Animal Style" french fries, were undaunted by waits that at times exceeded 12 hours, according to Business Insider. Even a month after the restaurants had opened, customers reportedly remained willing to wait over three hours for a burger at the Aurora location. Both locations are currently open for takeout only.