80-Year-Old Woman Dies After Ex-Security Guard Posed as Doctor to Perform Surgery
An 80-year-old woman died on Sunday after an ex-security guard at a Pakistani hospital posed as her doctor and performed surgery on her back.
Two weeks prior to her death, Shameema Begum underwent an operation at Mayo Hospital in Lahore, Pakistan. But instead of a qualified doctor, her surgery was performed by Muhammad Waheed Butt, a disgruntled former guard who had been fired by the hospital two years ago, Lahore police told Agence France-Presse on Monday.
"We can't keep up with what every doctor and what everyone is doing at all times. It's a large hospital," said a Mayo Hospital official.
While it is unclear exactly what kind of surgery Butt attempted, they know it was intended to treat a wound on Begum's back and that it was conducted in an operating theater where a qualified attendant was also present, said the unnamed official.
Public hospitals in Pakistan require patients to make payments towards their treatments. Begum's family paid Butt for the surgery, as well as two home visits to check and attend to her wound. It wasn't until her bleeding and pain worsened and her family took her back to the hospital, that officials and Begum's family figured out what had happened.
Mayo hospital staff said Butt was fired two years ago for trying to extort money from patients. "The guard has been charged and is in police custody," said Ali Safdar, a Lahore police spokesperson."Butt had posed as a doctor and made home visits to other patients in the past."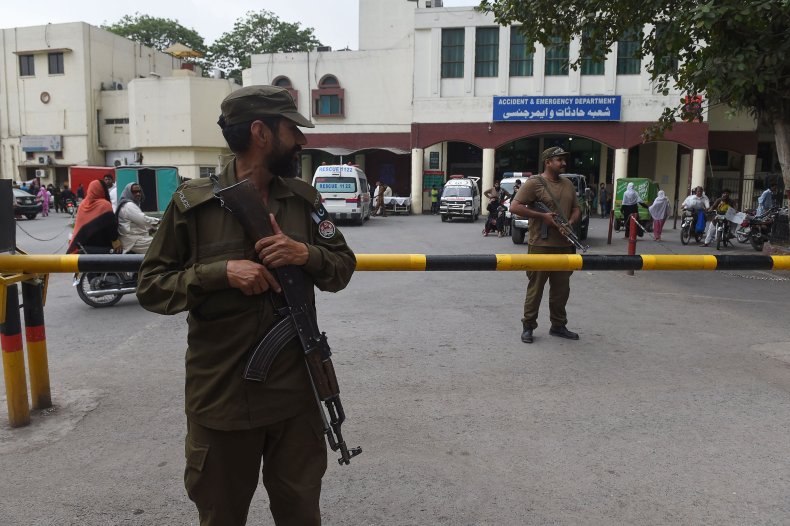 Begum's body will undergo an autopsy to determine the cause of death. Police will need to know with certainty whether or not she died as a result of complications from the inexpert surgery in order to prosecute Butt fully for his alleged crimes. It is not immediately clear what Butt was charged with.
Newsweek has reached out to Lahore Police for comment.
It is also unclear how Butt was able to gain access to the patient and operating theater, given his criminal history at the facility. However, Butt is not the first offender to take advantage of vulnerable patients at Lahore-area hospitals.
In May of this year, another Pakistani man was arrested for impersonating a doctor and attempting to extort money from patients at Lahore General Hospital, France 24 reported.
In 2016, a woman was found posing as a neurosurgeon at Lahore's Services Hospital, the second-largest health facility in Pakistan. She had been performing operations alongside real neurosurgeons for eight months before being found out.