An 800-Year-Old Medieval Wax Seal Found by 10-Year-Old Boy Sells for $5,000
A 10-year-old boy in the U.K. found an 800-year-old medieval seal in a field 10 minutes into a metal detecting trip. The seal sold for £4,000 ($5,247) at auction on Monday, Hansons Auctioneers told Newsweek.
George Henderson found the seal around 5 inches in the ground shortly after starting a charity dig set up by his father, Paul Henderson, in November 2021. The money will be shared between George Henderson and the farmer who owns the land in Suffolk, East Anglia, where the seal was found.
Used by medieval priests in the 13th century to put wax seals on official letters, the copper-alloy object is inscribed in Latin with the words: "Seal of the Priory and Convent of Butley, of Adam, Canon Regular."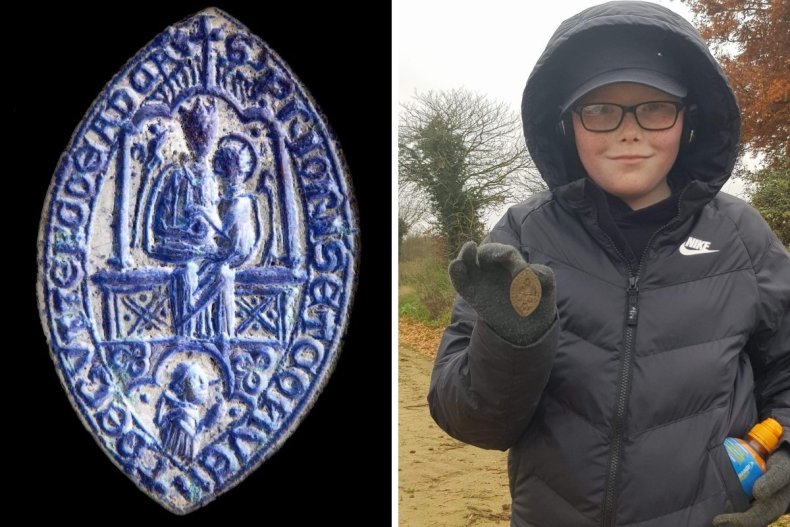 According to Hansons Auctioneers, the seal is around 800 years old. The item is linked to the Butley Priory, which was founded in 1171. The individual known as Adam was its prior between 1219 and 1235.
The seal features the Virgin Mary, as the priory was dedicated to her, as well as the baby Christ.
The finding has been designated of Regional Importance on the Portable Antiquities Scheme, which is run by the British Museum and records archaeological finds by the public.
Charles Hanson, owner of Hansons Auctioneers, told Newsweek: "It was an honor to auction this wonderful find. I am thrilled by the result—particularly for the metal detectorist who unearthed it, George Henderson. What a find to make for a young man of 10 years old. I am delighted to say the priory seal has been purchased by a private U.K. buyer and will be returning to Suffolk."
Metal detectorist Adam Staples, a consultant valuer at Hansons Auctioneers, said in a statement: "This is an exceptional find for any metal detectorist to make but to discover something like this when you're only 10 is astounding. George must have the Midas touch! I hope it will inspire him to keep metal detecting and unearthing more history."
The boy said in a statement: "I'm happy I discovered it."
Paul Henderson has been metal detecting for 20 years and said in a statement: "The seal's historical importance rather than value is what's important to both me and George. It's the most exciting find either of us has ever made.
"George has been metal detecting on and off since the age of five but he doesn't always come out with me. He's found one or two interesting things over the years.
"He knew the seal was special when he dug it up but he didn't know what it was. I did. I knew it was a medieval seal matrix. What I didn't know then was how unusual or valuable it was. George was laid back about it at first but, as the day wore on, people kept asking to look at it and he got more excited.
"He seems to be better at making important finds than me! Having said that, there have been plenty of times when he's come back with nothing. I always tell him to keep at it—and he got his reward."