Over 800,000 Lives Could Be Saved in 4 Months if Everyone in the World Wore Masks
Almost one million people could be saved from dying of COVID-19 in the space of four months if most people in the world wore masks, according to estimates by scientists. In the U.S. alone, it is thought that 93,000 lives could be saved.
The study, conducted by putting data into a computer model, revealed masks appeared to reduce the risk of spreading the coronavirus by 40 percent. If 95 percent of people wore a mask when outside the home over a one-week period, an estimated 815,600 deaths could be prevented between August 26 this year and January 1, 2011, according to the team at the University of Washington's Institute for Health Metrics and Evaluation (IHME). The estimated benefits were greatest in countries with low levels of mask use such as the U.S., where 93,495 deaths could be averted.
In a scenario where mandates to prevent the spread of the coronavirus were eased and no steps were taken to reintroduce them for six weeks, the team believes there could be 3 million coronavirus deaths between August 28 to January 1. However, if masks were used almost universally this would drop to an estimated 2.18 million deaths. That amounts to a 26.5 percent reduction in the number of people forecast to die in this time period.
According to a Johns Hopkins University dashboard that tracks coronavirus cases and deaths, almost 38.6 million people have been infected and over 1 million have died since the COVID-19 pandemic started late last year.
To carry out their research, the team looked at 40 existing studies on how effective masks are at blocking the spread of respiratory viral infections, including the COVID-19 coronavirus, SARS and the flu. The researchers also looked at surveys where residents from almost every country in the world said whether they wore a mask outside the home, conducted between March and August 2020.
According to the surveys, 59 percent of people worldwide wore masks on August 18. Many people wore masks in Latin America and South-East and East Asia, but less in the U.S., Canada, Australia, some regions of sub-Saharan Africa and Northern Europe. Those who live in cities were more likely to wear masks than those in rural areas.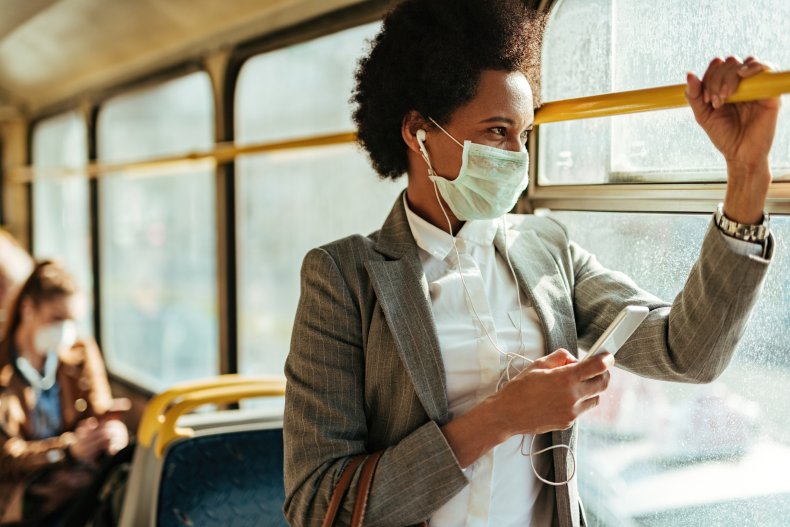 The pre-print study by a team at the IHME was released on the website medRxiv, meaning it hasn't been through the rigorous peer-review process required to publish in scientific journals. It can be useful for scientists to submit information in this quick way in a fast-paced situation like a pandemic.
Co-author Theo Vos, professor in global health at the IHME, told Newsweek via email the estimates vary by country, and are influenced by the nature of the outbreak.
"If there is a lot of spread as indicated by steep increases in the number of people testing positive and/or increasing numbers of hospital admissions, increasing mask use alone may not be able to turn the tide completely, although it will certainly help," he said.
Vos said: "Mask use is, in principle, a simple method and should be strongly recommended or mandated as long as we have substantial spread of the disease. It may make the difference between requiring a new lockdown or keeping the economy afloat and caseloads in hospitals manageable without having to scale down routine care."
Mask-wearing should not replace other measures such as social distancing, he said. It is most important to wear masks indoors, also. Asked whether people should wear masks at home, Vos said while it is difficult to persuade people to do so, a lot of disease transmission happens in this setting.
Pointing out a limitation of the work, Vos said the information used mostly came from studies carried out before the current pandemic, so new data collected during the COVID-19 pandemic could bolster their findings.
Richard Stutt of the Epidemiology and Modelling Group at the University of Cambridge, U.K., who did not work on the study, told Newsweek the paper is significant because it provides accurate estimates of how many lives would potentially be saved by the widespread adoption of face masks.
"While 800,000 sounds like a very large number, their projections are in line with observations to date, and worldwide the number of active cases is still growing," he said.
Stutt said: "This study comes down strongly in favor of the public wearing face masks. The study shows that in observed outbreaks, the use of facemasks in the general population provides significant reduction in transmission rates. The study does not directly address precisely when people should wear face masks, but from the studies they draw from the best results were seen in countries where people wear masks all the time when outside, even if attempting social distancing."