81-Year-Old Man Facing Eviction Has Cabin Destroyed by Fire Hours After Hearing
A New Hampshire man, 81, facing eviction after living as an off-the-grid hermit in the woods for 27 years, had his cabin destroyed by a fire in the hours after his court hearing Wednesday, the Associated Press reported.
David Lidstone, known locally as "River Dave," lived near New Hampshire's Merrimack River in self-reliance. Recently, the current landowner sought to take down Lidstone's cabin contending that Lidstone is a squatter. Lidstone was jailed on July 15 for a civil contempt sanction and was told he could get out of prison if he left the cabin. However, Lidstone told a judge Wednesday that he did not intend to leave.
Now, since the cabin was destroyed by a fire Wednesday afternoon, the state's fire marshal office said it is investigating potential causes as of Thursday. Lieutenant Dave Nelson of Canterbury Fire told the AP that the investigation could take a few days and could not provide any leads.
"We just had the fire yesterday, it takes a while," said Nelson.
During the court hearing, Lidstone told the judge "You came with your guns, you arrested me, brought me in here, you've got all my possessions. You keep 'em."
"I'll sit here with your uniform on until I rot, sir," he added, apparently referring to his prison suit.
"You're doing your own thing in the 'Live Free or Die' state, so there's a lot of sympathy to you for that," Merrimack County Superior Court Judge Andrew Schulman told Lidstone. "But there's a lot of weight on the other side of the balance sheet, and not just about what the [landowner] wants to do with the land, but the weight I feel to uphold the judgment of the court and the rule of law."
For more reporting from the Associated Press, see below.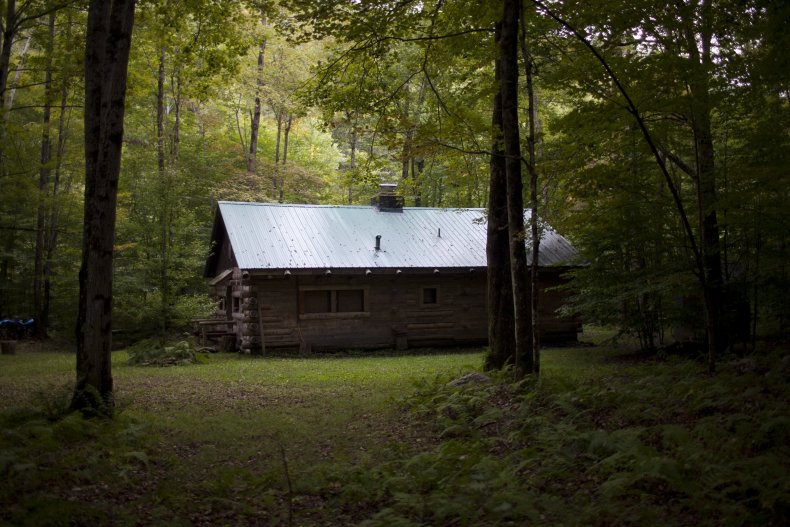 The cabin is on property reportedly owned by Leonard Giles, 86, of South Burlington, Vermont.
The fire marshal's office said it is investigating the blaze, but deferred questions to the Canterbury Fire Department.
Lidstone, who is originally from Maine, lived on a woodlot located a few miles from Interstate 93 north of the state's capital city of Concord. Most of his possessions were removed from the cabin before the fire.
Lidstone's off-the-grid lifestyle has made him a folk hero in northern New England, and news of the cabin fire led to sadness and empathy among his supporters. Horace Clark, a cousin of Lidstone's who lives in Vermont, said the fire was "both sad and sick."