82% of Fox News, 97% of OANN, Newsmax Viewers Believe Trump's Stolen Election Claim: Poll
A new poll published Monday found that the majority of viewers of conservative-leaning cable television believe former President Donald Trump's claims that the 2020 presidential election was stolen from him.
The national poll, conducted by the Public Religion Research Institute (PRRI), discovered that 82 percent of regular Fox News viewers—who stated that they trust the outlet more than any other network—agreed with the former president's unsubstantiated claims of widespread voter fraud.
Fox News reporters have often reiterated Trump's claims in the year since the election, and the outlet's website also has an entire page dedicated to stories on voter fraud concerns.
One of the networks' biggest stars, Tucker Carlson, admitted in a September interview that "I try never to lie on TV. I just don't—I don't like lying, [but] I certainly do it, you know, out of weakness or whatever."
The network has had a $1.6 billion lawsuit filed against it by Dominion Voting after it alleged that the company was using its voting machines to help rig the election.
The polling numbers were even higher among watchers of far-right media like One America News Network (OANN) and Newsmax, with 97 percent of viewers buying into former President Trump's claims.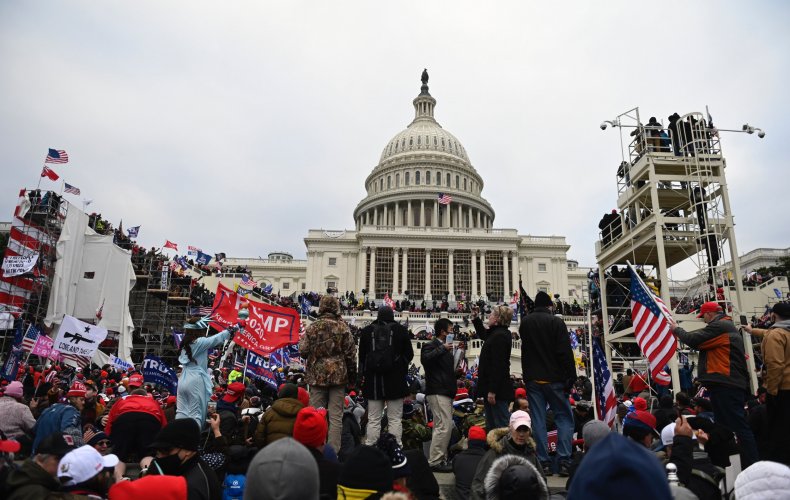 OANN and Newsmax, in particular, have been described as promoting conspiracy theories and a variety of debunked claims, specifically concerning the COVID-19 pandemic and the 2020 election. Dominion Voting has also filed lawsuits against both networks.
The Washington Post has referred to OANN as propaganda, and a former OANN producer told Reuters that "if there was any story involving Trump, we had to only focus on either the positive information or basically create positive information."
"It was never, never the full truth," the producer added.
In all, the poll concludes that 31 percent of Americans, or about two-thirds of registered Republicans, believe that the 2020 election was stolen as a result of voter fraud.
Additionally, PRRI found that while only 11 percent of Democrats and 17 percent of independents surveyed believed violent measures would be needed to fix nationwide issues, the number was much higher among Republicans.
Among members of that party, 30 percent of those polled stated that they believed some form of violence would be needed to fix the aforementioned issues.
The poll, entitled the American Values Survey, also examined a variety of socioeconomic norms in the United States, and how they can be looked at in comparison to prior decades. Additionally, it collected data on former President Trump's impact on American mindsets.
While only 41 percent of those polled say that they have ever not felt proud to be an American, 52 percent agreed that American culture had changed for the worse since the 1950s.
The disparity was more evident among party lines, with 70 percent of Republicans saying things had gotten worse, compared to 63 percent of Democrats who believed things had gotten better.
"I'm not an alarmist by nature, but I'm deeply disturbed by these numbers," said the founder and CEO of PRRI, Robert Jones. He called the results of the poll a "serious threat to democracy."
Newsweek reached out to Fox News for comment.