82-year-old Woman Finds 3-foot-long African Brown Snake in Her Oven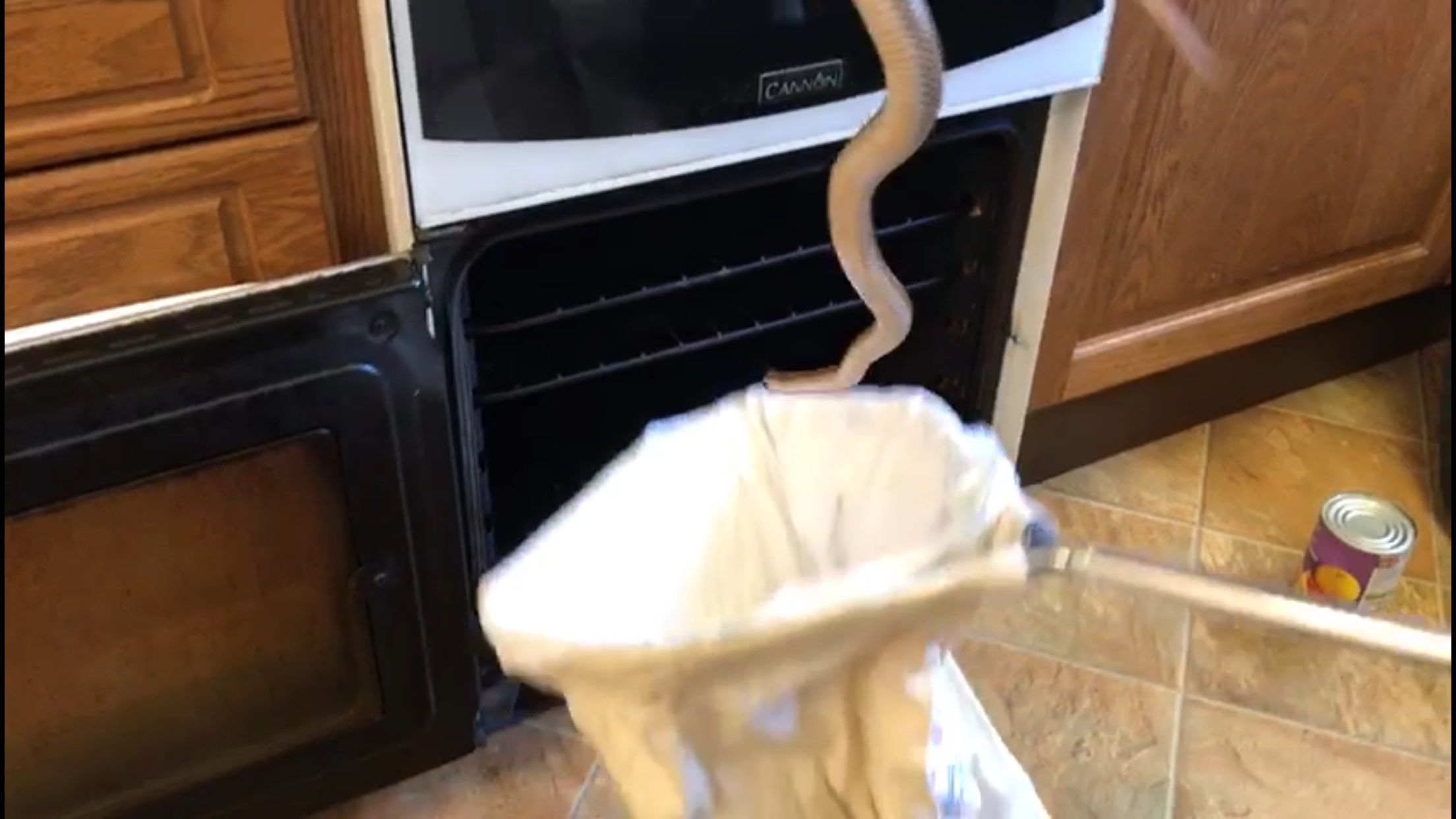 A British woman had the shock of her life after opening her kitchen oven, only to find a 3-foot-long African brown snake.
The 82-year-old, whose name has not been made public, was getting ready to cook herself and her husband oven fries. Upon opening the oven door, the woman spotted the snake—but still had the presence of mind to immediately call the Royal Society for the Prevention of Cruelty to Animals (RSPCA). "When I opened the door and saw it, I got the shock of my life," she said, according to the RSPCA.
"I have recently had a cataract operation and was wondering if my eyes were deceiving me—but my husband saw it too. I gave the RSPCA inspector a big hug and a cup of tea afterwards, but I went off the idea of oven [fries] so sent my husband to the fish and chip shop instead."
The snake, which has been nicknamed "Sammy", was non-venomous. RSPCA inspector Andy Harris said the snake likely slithered through a hole in the wall. "When I arrived I expected to find a small corn snake but this snake was quite long—at least three foot," Harris said. "I managed to coax the snake from the oven and was able to safely get hold of it with specialist equipment and then contain it securely.
"It was an African brown house snake, which is a non-venomous species, so I suspect that he is a pet that has escaped or been abandoned. It was probably attracted by the warmth but it was lucky the couple didn't preheat the oven first."
Last week, an Australian woman watched in horror as an eastern brown snake—the second most venomous land snake in the world—lifted itself off the ground to slither through her baby daughter's window. Luckily, Aleisha Mitchley, who lives on the Gold Coast, had taken her daughter out of the crib an hour earlier.
Mitchley described her shock at watching the 3ft snake rise through the window. "I couldn't believe it can climb, so it was climbing on through the window," Mitchley said. "It was up around the bassinet, in her cot, it was all over."
Mitchley said she was trying not to think about what would have happened if her daughter was in the crib at the time. "I don't know if that's why she was unsettled, I don't want to think about it. It was petrifying, I was very scared, I didn't know what to do. I'm trying to reach for my phone and stop my son from trying to get see the snake."
Neighbors were able to remove the snake from the room using a mop and a set of tongs. They placed it in a cooler until professional snake catchers arrived. "It took a while to register, you think it's just a toy. It wasn't until it started to move that I called out 'snake.' We have screens, we have door stoppers, I think the only way it could [have got inside] is that it snuck through the garage."