834 Unaccompanied Migrant Children Encountered at Border, Highest 1-Day Total Ever
Federal agents encountered 834 unaccompanied migrant children at the U.S.-Mexico border on Wednesday. Each child was alone and without a parent or guardian. The number represents the highest-ever daily total of unaccompanied migrant children.
The total was revealed on Thursday as a preliminary tally provided jointly by the U.S. Department of Health and Human Services (HHS) and the Department of Homeland Security (DHS).
In July, the number of unaccompanied children at the southern border reached over 19,000, according to ​David Shahoulian, the assistant secretary for border and immigration policy at the Department of Homeland Security. The number may have been the highest-ever monthly total for unaccompanied minors to date.
The highest number of unaccompanied minors to arrive at the border during the administration of Republican former President Donald Trump was 11,475 children in May 2019, according to data from U.S. Customs and Border Protection (CBP).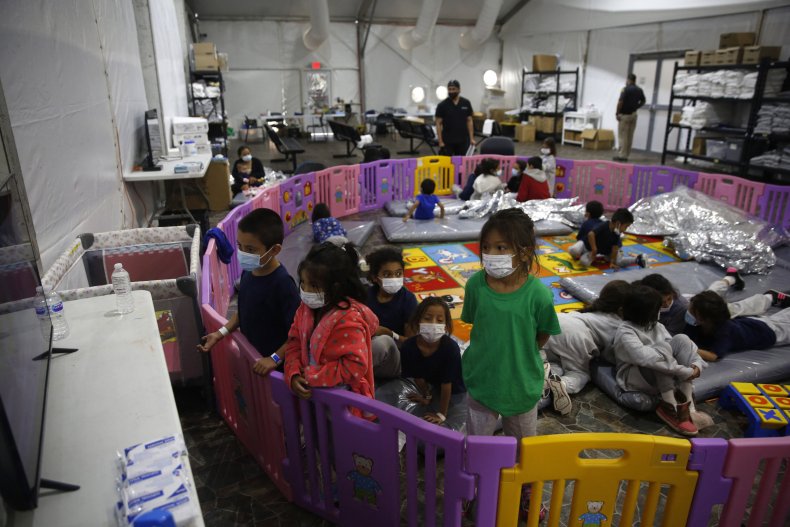 The Biden administration has pledged not to deport vulnerable children brought to the border. Instead, children are detained by CBP. After that, they are either reunited with family members already inside the U.S. or transferred to HHS facilities better equipped to handle children. There, they await an immigration court date.
The facilities often contain hundreds or thousands of other children. Some of the facilities reside within military bases or other structures not built for children. Reports have accused these facilities of lacking enough food, hygiene or other care for the kids within them. Progressive Democrats have taken issue with their conditions as well.
Between 75 to 90 percent of the kids will go to immigration court without an attorney. Over 80 percent of those kids will be deported. When kids have immigration attorneys, only 12 percent of them are deported, according to data from the National Conference of State Legislatures.
The kids are either then sent to live with family members already inside the U.S. or placed into foster care until they become 18. Afterward, they may be placed in adult immigration detainment facilities.
Immigration reform advocates have been pressuring Biden to end or change another Trump-era program known as Title 42. Instated by Trump on March 2020 as an ostensible COVID-19 prevention measure, the order allows U.S. authorities to rapidly deport any immigrants caught trying to cross the southern border. The order also expels them without giving them the chance to apply for humanitarian refuge.
Over 400,000 migrants have been expelled under Title 42, Reuters reported, though some in that count were repeat offenders who were counted twice. Critics say that the order denies due process to asylum seekers.
On August 3, the U.S. Centers for Disease Control and Prevention (CDC) extended the use of Title 42. The CDC said that the migration of non-citizens creates a "serious danger" of introducing "emerging variants" of COVID-19 into the United States.
The policy will remain in effect indefinitely until CDC Director Rochelle Walensky determines that immigration no longer represents "a serious danger to the public health."
Human Rights First said that immigrants seeking entry into the U.S. often face significant threats after Title 42 expels them. As of late June, 3,250 migrants expelled across the border were kidnapped, attacked, raped or trafficked since Biden took office in January 2021, the organization said.
Newsweek contacted the White House for comment.