84% of Texas Facilities for Migrant Children Report Positive COVID Tests as Feds Eye New Shelters
Migrant children have tested positive for COVID-19 inside most of Texas' state-licensed shelters since the beginning of March, as the U.S. continues to see an influx of unaccompanied minors arriving at its Southern border. Shelters provide interim care to migrant children and teenagers after they are transferred from federal detention centers and before their release to guardians.
Thirty-seven of 44 shelters, currently housing migrant children and teenagers in various parts of Texas, reported positive COVID-19 cases between March 5 and 23, according to data collected by the Texas Health and Human Services Commission. Newsweek obtained the data on Wednesday. It reflects cases identified by shelter facilities and foster care providers which are then reported to officials at the health and human services commission.
The number of shelters that confirmed virus cases in migrant children over the past two-and-a-half weeks accounts for 84 percent of all shelters overseen by the state. At least 261 children tested positive as of Tuesday, with the majority of cases diagnosed in shelters. Foster care providers reported a handful of confirmed cases as well.
A spokesperson from the Texas health commission told Newsweek it does not maintain additional data to track COVID-19 transmission inside federal facilities. The absence of centralized federal procedures to sufficiently identify and manage COVID-19 cases among migrants detained at the border has given rise to more questions than answers about the illness' true incidence.
Thousands of migrant children and teenagers are currently being held in U.S. custody, either at short-term detention centers or temporary shelter facilities. Lack of adequate resources meant authorities were unprepared to adequately manage the uptick in arrivals recorded over the course of this year. Individuals arrested near the border were placed in overcrowded detention centers, which, in hundreds of cases, held unaccompanied minors longer than established protocol legally allows.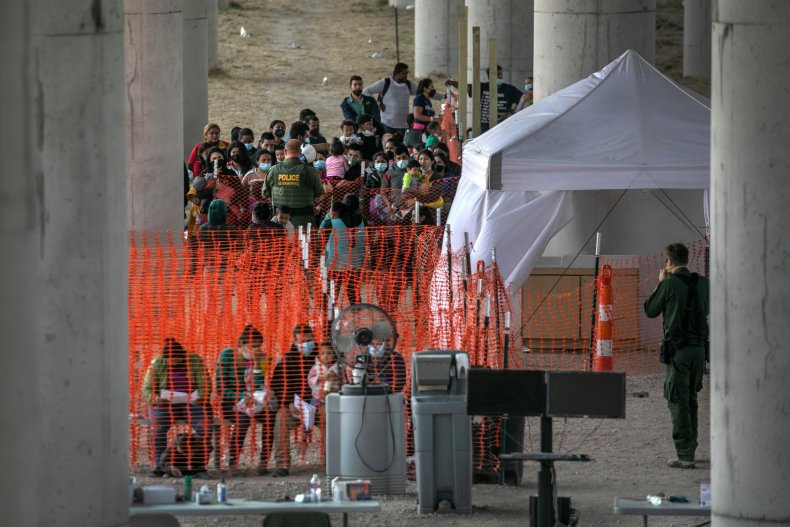 Officials within President Joe Biden's administration are now working to open additional shelter spaces for migrant youth, as safety concerns grow alongside threats of COVID-19 transmission. The U.S. Health and Human Services Department announced its plans to open six new intake and influx care facilities to hold unaccompanied minors temporarily, after officials emphasized an urgent need for expanded capacity during the pandemic.
The department's Office of Refugee Resettlement (ORR), a branch of the Administration for Children and Families, reopened an overflow shelter facility in Texas' Carrizo Springs last month, which is capable of housing roughly 950 occupants. ORR operates more than 200 temporary shelter centers for migrant youth and has increased its overall bed capacity to 13,500 in an effort to mitigate risks of COVID-19 transmission. Texas Governor Greg Abbott referenced an outbreak at the Carrizo Springs facility in a statement issued last week, blaming the Biden administration for unsafe conditions that unaccompanied minors face in federally run facilities.