'At 85, I Published My First Crime Thriller'
On April 10, 2019, my wife Therese and I travelled to New York from Washington, D.C. where we live for a weekend of museums and theater. After dinner with two friends, we decided to take a shortcut back through a high end shopping mall at Columbus Circle where, at the age of 84, I took a terrible fall and landed face down on the freshly mopped marble floor. Later, I learned that my blood had soaked through my jacket.
I have only a hazy recollection of what happened afterwards. My wife stayed at my side as I lay on the floor while our friends called for an ambulance that took me to St Luke's - Roosevelt Hospital Center's emergency room. I was admitted immediately and did not regain consciousness until the next morning. Even then I was in terrible pain. I had deep bruising below my eyes and areas of abrasion where skin had been torn. I was put through a battery of tests and it was determined that I had suffered a concussion and had some bleeding in my brain. There were initial concerns that I might have suffered permanent brain damage.
More tests were scheduled following my discharge to exclude other undesirable complications. Fortunately, I did not have any brain damage. But, it took weeks of demanding physical therapy before I felt well enough to return to my normal day-to-day life.
Prior to the fall, I had chosen to embark on a new career in my mid-eighties: writing political thrillers. I had always loved writing and published several plays, but decided to try my hand at writing fiction that revealed crime in every level of society.
In a sense, my career in the United States Foreign Service prepared me for thriller writing. As a diplomat, I witnessed intrigue and abuse of power first hand. During the Cold War, I was posted at the U.S. Embassy in what was then East Berlin. The German secret police, known as the Stasi, supported the publishing of a directory called Who's Who in CIA which included my name. I certainly wasn't a spy. This disinformation was likely intended to compromise my work and that of other Foreign Service officers who were also included in the directory. Political corruption has always repelled me, but it does lay the groundwork for an interesting thriller.
The novel I decided to write was to be set in Washington, D.C., my home base for more than 50 years. I was excited about the central character I created, a top D.C. homicide detective named Marko Zorn, who does not like to follow the rules but still maintains a strong ethical compass.
A literary agent had expressed initial interest in the project and wanted to meet with me. She was understanding and patient due to the accident. We didn't actually meet until a few months later when I felt stronger and decided to make the effort required for the trip to New York. My wife accompanied me on the Amtrak train and helped me get on and off since I was using two canes.
When I arrived at the university club where the agent had invited me for tea, I had difficulty getting up the half dozen or so wide, shallow marble steps. It was clear from the expression on her face that she was concerned about how I was going to manage the descent of these same stairs wielding my twin canes after our tea date. Indeed it was a heart in the mouth descent. But the important thing was that she had agreed to represent me for the book project.
My days of traveling to foreign places or even traveling to New York on a regular basis were over. I took slow walks in my neighborhood for exercise and my wife and I spent a few weekends in Delaware to get out of the city. Despite this, I was determined to resume writing. I had developed a real passion for my central character whom I put in one challenging action-packed situation after another. So, at the same time, I continued fine tuning my novel. I settled on the title of The Reflecting Pool, referring to the pool that lies at the foot of the Lincoln Memorial, and I was pleased with my new writing life at the age of 84. What could go wrong?
Then came the pandemic, and like everyone else, to protect ourselves against the virus, we were forced to become virtual recluses; tethered to our Washington apartment. Our world became smaller as we were no longer able to see my children or grandchildren in person. We could not dine out, visit museums or attend performance events of any kind.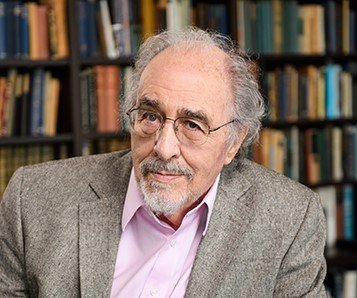 Otho Eskin, who published his first novel at the age of 85.
Courtesy of Otho Eskin
Confined to the apartment, I completed the first draft of a sequel. While I missed the change of scenery and meeting with other people, I found delightful company in my thriller's fictional protagonist, Marko Zorn. I have become a full-time armchair traveler. I may be stuck in my apartment for now, but I can go anywhere in my imagination. As I crafted further adventures for Zorn, my first novel was released when I was 85, in e-book format in June 2020 and in hardcover in October of 2020.
I've always wanted to write, but I had no time during my career as a foreign service officer. As soon as I retired, I knew that writing was what I wanted to do. I certainly feel that I have many books left to write featuring Zorn, and I hope I have the life span and energy to produce many more.
The greatest gratification has been to receive emails from readers informing me how much they enjoyed my novel. It made me feel I had done something worthwhile that provided people with entertainment and escape from the nightmare of the pandemic. My book has been read by book clubs, and readers young and old alike. One reader in an assisted living facility thanked me for the "excellent diversion during these times of social distancing and sheltering in place."
It is comforting to know that while traveling in my imagination during this past year, I have not been alone.
Otho Eskin is an author and playwright living in Washington, D.C. His first novel The Reflecting Pool is available in e-book and hardcover. It has been chosen as an Amazon Editors' pick for best mystery, thriller and suspense. The sequel, Head Shot, is scheduled for publication in December of 2021.
All views expressed in this article are the author's own.