850 COVID-19 Cases in Malaysia Linked To Eid Festival
Malaysia reached another daily high of 8,290 infections on Friday, with 850 of those cases confirmed to be linked to Eid festival clusters, the Associated Press reported.
Senior Minister Ismail Sabri said many Muslims ignored the COVID-19 safety rules that prevented them from seeing each other during the Eid festival, the Associated Press reported.
This brings the country's total cases to 549,514 according to the Health Ministry, with 2,552 deaths. Nearly 40 percent of Malaysia's COVID-19 related deaths have happened this month.
For more reporting from the Associated Press, see below.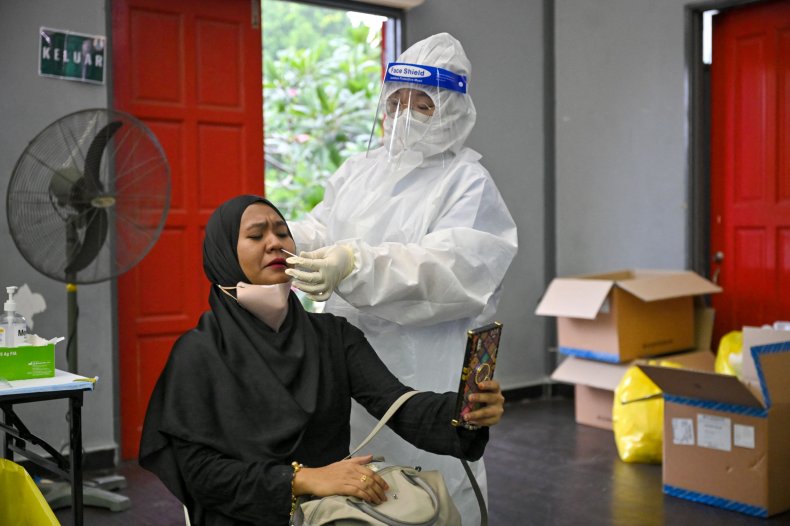 More worrying, Sabri said, is that many of the positive cases involved people who were asymptomatic.
The Malaysian government imposed a near-lockdown on the eve of the Eid festival to curb an aggressive outbreak that has strained its hospitals. Still, it refused to halt business activities for fear doing so would cripple the economy.
Malaysia's total cases and deaths so far this year have jumped five-fold from the whole of last year. The government plans to ramp up vaccinations. So far, some 1.7 million out of over 11 million people who registered have received one dose.
Meanwhile, Denmark has developed a way to help those deemed safe to travel or visit.
The Danish government on Friday presented its digital coronavirus passport enabling people to travel abroad or, in Denmark, go to the hairdresser, a tattoo parlor, dine inside a restaurant or wherever else it is needed.
"The corona passport we present today can be used from July 1 when you can travel within the EU," said Finance Minister Nicolai Vammen.
Some 20 percent of Denmark's population of 6 million have been fully vaccinated, according to the latest figures, he said.
During a press conference outside the Copenhagen airport, Health Minister Magnus Heunicke held up his phone to show the app, which features a QR code and a green bar if the person has been vaccinated twice or recently tested negative for COVID-19.
If the app flashes red, it will not say why, according to Wammen.
People will either have the code scanned or will flash it before entering an airport, a harbor, a train station, a hairdresser or an eatery. In certain cases, a physical document can be sent in the mail to serve the same purpose as the app.
"What we get now is an app that makes it easier and simpler to use," . "There is no doubt that we will have to use it over the summer, but it is of course something that needs to be phased out," Heunicke said.
Member countries of the World Health Organization have approved an "ambitious increase" in the budget for the U.N. health agency at a meeting, with some noting that WHO's chronic underfunding cripples its ability to protect global health.
Delegates at the World Health Assembly on Thursday approved a 16 percent increase to WHO's proposed budget for the next two years, setting it at about $6.1 billion.
More than 90 percent of WHO's funding is tied to specific health issues, and the agency often struggles to respond to urgent crises. Dr. Michael Ryan, WHO's emergencies chief, said there is currently a 70 percent funding gap, which has "left the organization in real and imminent danger of being unable to sustain core functions for urgent priorities."
A commissioned review of the WHO in the wake of its global handling of the COVID-19 pandemic suggested the agency could have acted faster and more aggressively to stem the spread of the coronavirus, but also said it lacked power and money.
The Sri Lankan government on Friday announced that it has received 50,000 doses of the Russian-made Sputnik V vaccine.
Sri Lanka is facing a severe shortage of COVID-19 vaccines because the manufacturer of the Oxford-AstraZeneca vaccine in India did not supply promised stock due to the domestic coronavirus emergency. Sri Lanka had arrangements to buy 13.5 million doses of the AstraZeneca vaccine.
The 50,000 doses of Sputnik V that were flown into Sri Lanka late Thursday are the second batch of the vaccine to be given to the Indian Ocean island nation, the government said. Another 15,000 doses arrived earlier this month.
Sri Lanka has entered an agreement to purchase 13 million doses of Sputnik V to be delivered in phases until December.
On Thursday, Sri Lanka began to expand it's inoculation program across the country amid a sharp increase of confirmed cases from different parts of the country in recent weeks.
Previously, the vaccination program was centered in the capital region.
As of Friday, Sri Lanka's total number of confirmed cases stood at 174,860, with 1,325 deaths.
The Czech Republic is further relaxing coronavirus restrictions amid a decline of new cases and making it easier for residents to travel to seven other European Union countries.
Health Minister Adam Vojtech said all restaurants and bars will be allowed to resume indoor service for customers who have been vaccinated, tested negative for the coronavirus or recovered from COVID-19.
The ministry originally planned to lift the restrictions on bars and restaurants but acted sooner after a court ruled the measures were too restrictive.
At the same time, all public swimming pools, saunas and wellness centers will be allowed to return to business on Monday at 30 percent capacity.
Czechs also can travel to seven other EU countries starting Monday if they have received the first dose hot of a two-shot coronavirus vaccine. The countries are Germany, Poland, Slovakia, Austria, Hungary, Slovenia and Croatia.
The country's number of newly confirmed daily cases dropped to 505 on Thursday, down from almost 17,000 in early March.