86% of Teachers Say They Had to Buy Their Own PPE for In-Person Classes
A large majority of teachers felt the need to purchase their own personal protective equipment (PPE) as many returned to school to teach in person amid the COVID-19 pandemic, according to a new poll.
The poll released Tuesday, conducted by Hart Research Associates for the American Federation of Teachers (AFT), found that 88 percent of teachers had purchased PPE. The poll indicated that 86 percent of teachers bought the PPE for their own use, while 11 percent bought it for their students.
A 77 percent majority of teachers said that protecting the health of students and staff while limiting the spread of the virus should be the primary factor in determining the timing of school reopening decisions. Parents of school children were also polled, with 68 percent agreeing that health concerns were the most important factor.
AFT President Randi Weingarten blasted President Donald Trump and Education Secretary Betsy DeVos for pushing schools to reopen regardless of concerns about spreading the virus, saying that the poll had made it clear that a majority of both teachers and parents prioritized safety over opening classrooms at any cost.
Weingarten noted that the poll had also shown a majority, 80 percent of teachers and 55 percent of parents, disapproved of Trump and DeVos threatening to withhold funding from schools if they do not fully reopen to in-person learning.
"Parents and teachers are on the same page when it comes to school reopening—and they are united in the belief that we must protect our students, educators and communities' safety and health and reject President Trump and Betsy DeVos' agenda to strip schools of funding if they don't fully reopen," Weingarten said in a statement obtained by Newsweek.
"We all want to get back to in-person learning, but that should not happen until there are COVID-19 safety measures in place and the funding to pay for them," she added.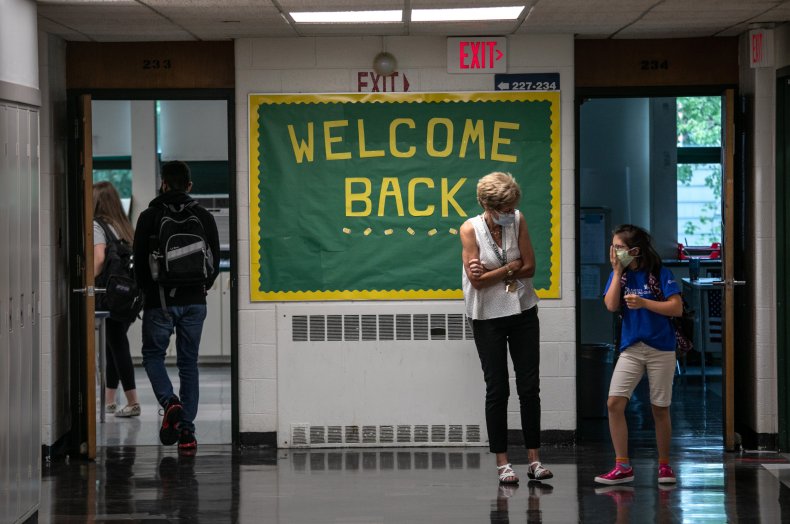 According to the poll, 85 percent of teachers believe that it is "essential" or "very important" that PPE and training for teachers and students be provided for classrooms to safely reopen. However, only 64 percent said they were confident that their school would actually provide the PPE and training.
The poll found that 56 percent of teachers believe schools should limit classes to entirely remote learning, while 30 percent favored a hybrid model of in-person and remote learning. A smaller number, 14 percent, said schools should reopen "on a normal in-person basis" during the pandemic.
Parents were somewhat more enthusiastic about moving forward with at least some in-person learning. Although a plurality of 43 percent agreed that classes should remain entirely remote, 36 percent preferred the hybrid model and 21 percent favored a "normal" return.
The poll was conducted online among 816 U.S. public school teachers from August 26 to September 1. The school year had already started for 63 percent of the teachers polled. In addition, the survey included 1,001 parents of K-12 students. They were polled online from August 26 to September 6, with 65 percent already having seen their children resume classes.