88 Percent of Colleges in U.S. Have Restrictions on Free Speech, New Report Shows
Almost 90 percent of colleges and universities across the U.S. have restrictions on students' free speech, according to a new report.
Among 478 institutions surveyed, nine in 10 restrict free speech in some capacity, accounting for 88 percent of all colleges across the U.S., according to the report, published Tuesday by the Foundation for Individual Rights in Education (FIRE).
"FIRE rates schools as 'red light,' 'yellow light,' or 'green light' institutions based on how much speech protected by the First Amendment their policies restrict in a number of categories, including protest, online speech, harassment, and civility," states the report, entitled "Spotlight on Speech Codes 2021: The State of Free Speech on Our Nation's Campuses."
According to FIRE's speech code ratings for colleges across the nation, a "red light" rating is given to an institution that has at least one policy "that both clearly and substantially restricts freedom of speech." A "yellow light" rating is defined as an institution "whose policies restrict a more limited amount of protected expression or, by virtue of their vague wording, could too easily be used to restrict protected expression" and a "green light" rating is for an institution whose "policies do not seriously imperil speech."
Among the different ratings, the report found 21.3 percent, or 102 colleges, receiving a "red light" rating, which is roughly a 3 percentage point decrease from the same survey conducted last year. The report notes that while this number has decreased, "red light schools still make up at least half of FIRE-rated institutions in the District of Columbia and 7 states: Alaska, Delaware, Illinois, Oregon, South Carolina, Vermont, and Wyoming."
Meanwhile, 65.3 percent of colleges received a "yellow light" rating, which indicated an increase from the previous year, when 63.9 percent of schools received the same rating.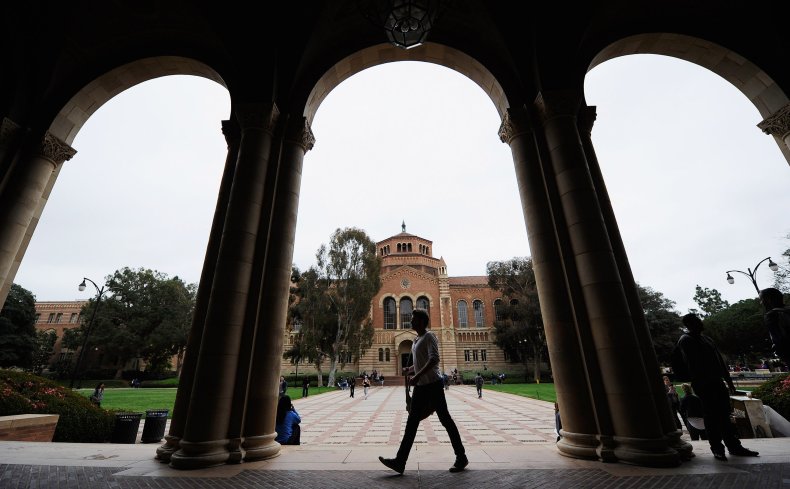 According to the report, only 56 colleges, or 11.7 percent, do not have any current policies restricting free speech and were given a "green light" rating. The report noted that this was an increase from the previous year's survey, which found 50 institutions receiving this rating.
Laura Beltz, author of the report and a senior program officer for policy reform at FIRE, told Newsweek via email that FIRE has offered to help the different colleges surveyed in this report, "but most decided to carry on with their censorship."
"We encourage prospective students who want to engage in vigorous debate and discussion to keep in mind the 56 institutions that earn FIRE's top rating. But if they decide to enroll elsewhere, we're here to help," Beltz told Newsweek.
Beltz also noted that the different free speech policies across colleges "have real-world consequences."
"Students and professors around the country face punishment for speech that is clearly protected by the First Amendment or a school's free speech promises," Beltz told Newsweek.
The full list of colleges surveyed and their ratings can be found here.