8chan Owner Jim Watkins Defends Extremist Online Speech Forum in Wake of Mass Shootings
The owner of the radical online platform 8chan — which has been blamed for its dissemination of hate speech — broke his silence on Tuesday in a video statement on Youtube that attempted to deflect responsibility for allowing the publishing of white nationalist manifestos on the site.
Jim Watkins, a U.S. veteran who now lives in the Philippines, defended the website amid outcry over reports that the El Paso gunman used to site to publish his manifesto ahead of his murderous attack on Saturday that left 22 people dead and more than 20 injured. In the video, Watkins lashed out at service providers, journalists and Instagram.
8chan is an online message board in which users can anonymously post text. It is moderated by employees who play a very limited role as 8chan describes itself as a bastion of unconstrained free speech.
"My company takes a firm stand on helping law enforcement, and within minutes of these two tragedies, we were working with FBI agents to find out what information we could to help in their investigations," Watkins said, in a 7-minute long statement read over the military bugle call, "Taps." He also sat in front of a backdrop of Benjamin Franklin. "We have never protected illegal speech, as it seems that we have been accused of by some less than credible journalists," he said.
Watkins went on to decry the decision of the infrastructure provider Cloudflare to stop providing 8chan with its services on Sunday as "cowardly," a move that has threatened 8chan's ability to exist on standard web engines.
This video comes in the wake of the House Homeland Security Committee writing to Watkins asking him to testify about 8chan's linkage to recent three mass shootings. They said on Tuesday, "Americans deserve to know what, if anything, you, as the owner and operators, are doing to address the proliferation of extremist content on 8chan."
Watkins alleged that a different internet platform was involved in the El Paso massacre.
"First of all, the El Paso shooter posted on Instagram, not 8chan," he said. "Later someone uploaded a manifesto. However, that manifesto was not uploaded by the Walmart shooter. I don't know if he wrote it or not, but it was not uploaded by the murderer."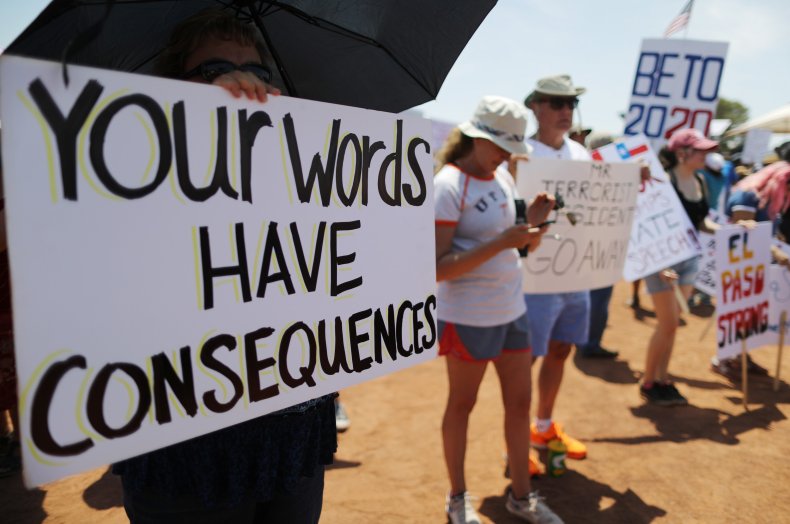 8chan was founded in 2013 by Fredrick Brennan as an even less restrictive alternative to the infamous online message board, 4chan. The site's popularity increased in 2014 when 4chan banned discussion of the misogynistic harassment campaign known as Gamergate, prompting of 4chan's most committed users to relocate to 8chan.
Brennan has called for the site to be shut down in a number of interviews since the El Paso shooting. He said in a tweet on Tuesday:
"8chan only should be shut down due to Jim's chaotic administration. 8chan is full of incitements to violence. Literal mass murderers are using it but they don't seem to care. "Embrace infamy," the edgelords who run it say. They're laughing with Brenton."