On 9/11 Anniversary, Former NYC Mayor Rudy Giuliani Attacks BLM Protesters and Kneeling NFL Players
Former New York City Mayor Rudy Giuliani condemned Black Lives Matter protesters and NFL players who kneel during the national anthem, as he reflected on the September 11 attacks almost two decades later.
Giuliani, who held office during the terrorist attacks, blamed protesters and professional athletes for the lack of unity across the nation, which he said had been much stronger 19 years ago.
"We've become much more divisive. We've lost a certain percentage of patriotism. I don't remember anyone taking a knee back in 2001," Giuliani told Fox Business host Maria Bartiromo when asked what has changed since the attacks. "I don't remember people burning flags 20 years earlier. I don't remember people saying hateful things about America. How horrible we are. How horrible our founders are. We've got a whole 'hate America' movement going on."
He said that tensions with ISIS are ongoing and that the conflict is not over.
"These people still want to come here and kill us and we're defunding the police department that protects the number one Islamic terrorist target in the world, New York City?" he asked.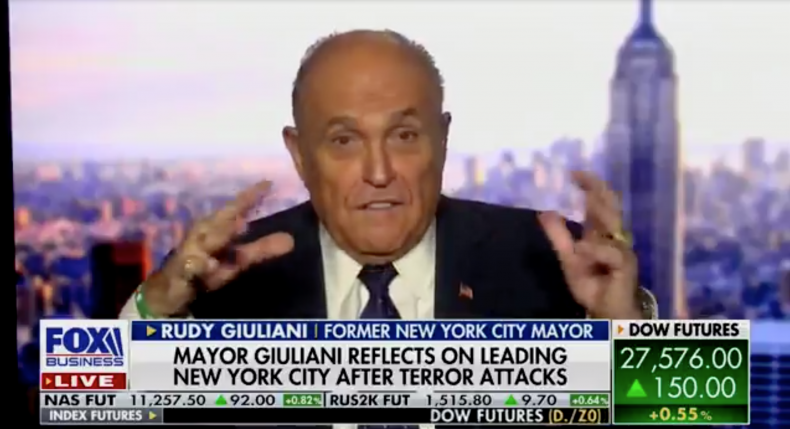 The former mayor added that the idea of defunding the police sends a message of weakness to terrorists.
"Can you imagine the weakness they see now? With our police being humiliated? They want to do away with our police department? I mean, social workers are going to protect us against terrorists?" he asked. "This isn't political. This is about the safety of the nation."
Black Lives Matter activists have pushed to defund police across the country by divesting law enforcement budgets and reallocating them to non-policing forms of public safety and community services—such as housing and education resources—due to the racial biases that officers often have.
Giuliani went onto argue that the first responders at the scene on September 11, 2001 did not discriminate because of the lives they saved.
"They ran into that building and they weren't asking 'Are you Black?' 'Are you white?' 'Are you a woman?' 'A child?' 'Are you gay?' 'What's your gender?' They're going to pull anybody out [that] they can pull out. They don't ask questions like that," he said.
"It's the people who attack them that are the racists. Not them," Giuliani added. "They put their lives at risk and they die for any race, any religion, any gender. It's the people who think identity who are the racists in our society."
Newsweek reached out to the Black Lives Matter organization for comment, but did not hear back before publication.
Giuliani also criticized New York City for conducting a pre-recorded memorial instead of a live reading of the victims' names due to the coronavirus pandemic, calling the decision "disgraceful."
This year's reading of names was recorded in advance to prevent the spread of COVID-19, and broadcasted both online and at the memorial site in Manhattan.
Politicians from both political parties—including Vice President Mike Pence, Democratic presidential nominee Joe Biden and New York Governor Andrew Cuomo—gathered at Ground Zero on Friday morning alongside the family members of victims who were asked by the city to practice social distancing. Others were discouraged from attending the event in person.