After a difficult and prolonged fight, the 9/11 Victim Compensation Fund was permanently extended and fully funded until 2092 this July, freeing up more than $10 billion to compensate claimants diagnosed with a 9/11-related illness and providing free healthcare to the 9/11 community for the next 75 years.
But now proponents of the bill have a new challenge: Getting people to sign up for it.
There were about 400,000 people involved in the 9/11 community in the days following the attacks. Nearly 100,000 of those people were first responders but the remaining 300,000 were survivors: People who ran from the towers or lived and worked in the community while the fires still burned. Both first responders and survivors were exposed to the same mass of toxins that circulated in the air after the twin towers fell and both were assured by the Environmental Protection Agency at the time that the air was safe to breathe.
But survivors are less likely to take advantage of the programs made available to them than first responders: Of the 100,000 enrolled in the 9/11 health program, 80,000 are first responders and just 20,000 are survivors, according to data compiled by Barasch & McGarry, a law firm dedicated to helping 9/11 victims. That means that while 4 out of 5 responders are receiving benefits, only one out of 15 survivors are.
On Monday, comedian Jon Stewart, who made multiple rounds of media appearances and trips to Washington in an attempt to get the bill passed earlier this year, made an appeal to those who had not signed up: "Your presence here was an act of courage and resilience," he said from an auditorium at the Borough of Manhattan Community College, just blocks away from Ground Zero. "We all remember what this neighborhood was like in the days and weeks following the attacks. You've earned our respect, our attention and also this healthcare. I don't care how many EPA secretaries said it was safe here, none of us are idiots."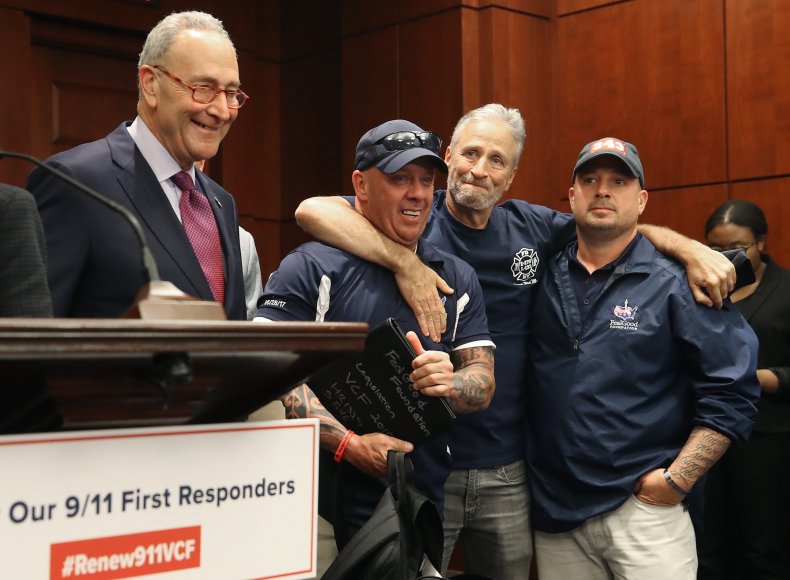 New York Senator Kirsten Gillibrand, fresh off of ending her 2020 presidential run, also addressed the audience, urging them to sign up for the program. "People we know and love are dying everyday, that's the truth," she said. "The biggest problem in Washington isn't the lack of bipartisanship, the biggest problem in Washington is the lack of empathy...This was the most important thing I've been able to do as your Senator in the last decade."
In the wake of the passage of the bill, many media outlets covered it as something intended to aid first responders only, and activists fear those who were exposed and have fallen sick from the dust don't understand they can receive help or compensation from the federal government. There's hope that this will soon change, the Borough of Manhattan Community College and New York Law School recently sent out letters to all faculty and alumni who were enrolled around the time of 9/11 informing recipients of their potential eligibility under the bill. The Department of Education has also sent 19,000 letters to former high school, middle school and elementary school students.
"On 9/11, the pH of the air was the consistency of draino," said Richard Alles, the retired deputy chief of the Fire Department of New York. "This is the unsung forgotten community that has been left behind because people thought these benefits were just for first responders."
Alles told the crowd that it wasn't "sexy" to bring stockbrokers to Washington D.C. while fighting for the bill to pass, that they had to persuade representatives and senators by bussing in sick men and women in police and firefighter uniforms. But many of those Wall Street types, he said, "now have cancer as well."
There are now dozens of cancers linked to 9/11 toxic dust, and more than 2,000 victims have died of 9/11-related illnesses. So far, more than $5 billion has been awarded to more than 25,000 people.