Trump Accused of Turning Back on Country for Saudi Money by 9/11 Families
Relatives of victims killed in the 9/11 terror attacks protested outside former President Donald Trump's Bedminster, New Jersey, golf club on Friday over his decision to host a golf tournament backed by Saudi Arabia.
A group known as 9/11 Justice, which is made up of more than 3,000 family members of victims of the attacks, also lashed out at professional golfers who joined the LIV Golf tournament, which began Friday. Golfing stars Phil Mickelson, Dustin Johnson and Brooks Koepka are among those who left the Professional Golfers' Association of America (PGA) Tour in order to collect larger paychecks from the Saudi-supported LIV event.
"How much money does it take to turn your back on your country?" Juliette Scauso of 9/11 Justice said during a news conference. She then named Trump and prominent golfers participating in the tournament, saying that for them "that amount of money is just a few hundred million dollars."
She added, "We 9/11 families would trade any amount of money in the world just to see our loved ones again. Just to have one last hug, one conversation, one more round of golf."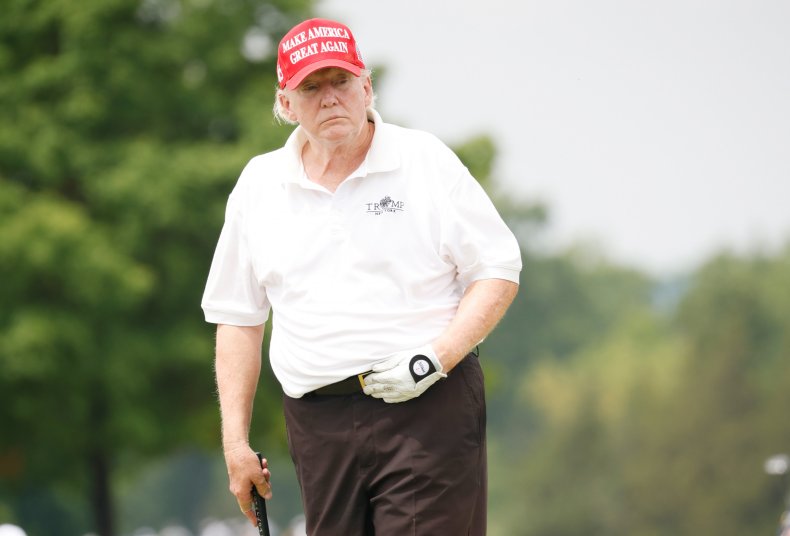 On Thursday, Trump defended Saudi Arabia's role in the tournament. When asked by an ESPN reporter about the planned protests from 9/11 families, the former president said, "Nobody's gotten to the bottom of 9/11, unfortunately."
His statement contrasted with intelligence reports from the CIA and FBI that have suggested possible Saudi links to the attacks. (Saudi Arabia has denied any involvement with the attacks.)
"I've known these people for a long time in Saudi Arabia. They've been friends of mine for a long time," Trump said to ESPN. "They've invested in many American companies, they own big percentages of many, many American companies, and frankly what they're doing for golf is so great."
After Trump's comments aired, past comments he made in which he blamed Saudi Arabia for the 2001 attacks resurfaced.
"Who blew up the World Trade Center? It wasn't the Iraqis, it was Saudi—take a look at Saudi Arabia, open the documents," Trump told Fox News in February 2016.
He also made similar remarks during a 2016 political rally in Bluffton, South Carolina, according to New York magazine's The Intelligencer website.
Brett Eagleson, who founded 9/11 Justice, said to the press on Friday that Trump claiming to not understand the group's anger and saying it's not known who was behind the attacks "is the worst form of greed and worst form of evil."
He added, "Our loved ones are the heroes—the golfers and the former president are cowards."
Newsweek reached out to Trump for comment.