9/11 First Responder Slams Rand Paul, Mike Lee as 'Bottom Feeders' After They Block Victims' Compensation Bill
John Feal, a prominent 9/11 first responder, blasted Republican Senators Rand Paul of Kentucky and Mike Lee of Utah after the two men blocked the passage of a bill that would extend the healthcare coverage for first responders and victims of the 2001 terrorist attacks.
"Rand Paul and Mike Lee, what do I say about those two?" Feal asked during an interview on CNN's New Day on Thursday morning. "They're hypocrites at best," he asserted. "No, no, not only are they hypocrites, they're bottom-feeders, they're opportunists."
Feal pointed out that Paul and Lee, who claimed they were blocking the widely supported bipartisan measure because they are fiscally conservative and are concerned about the government spending additional funds over a long term timeframe, previously voted for President Donald Trump's tax cuts. Due to the government collecting significantly less revenues, primarily from corporations and the wealthiest Americans, those tax cuts are projected to add $1.84 trillion to the national deficit over the next decade.
The First Responders bill would cost $10.4 billion over same time frame, approximately 0.56% of the deficit projected from the tax cuts Paul supported.
"You cannot cherry pick and choose when you want to be a fiscal conservative," Feal said. "Shame on him. That's not even about politics anymore. We're talking about being a good human being."
Back in 2010, the James Zadroga 9/11 Health and Compensation Act first passed Congress, although some Republicans opposed the bill at the time because of concerns about the cost. In 2015, five years later, the legislation was reapproved for the next 90 years, with the exception of the Victims Compensation Fund, which was funded for just five years. That timeframe will draw to a conclusion at the end of next year. As a result, Feal, other 9/11 first responders and many supporters have been campaigning for Congress to reauthorize that fund and put an end to the five year time frames.
The legislation passed the House of Representatives and has the support of 70 Democratic and Republican senators. It is expected to eventually pass the Senate, but Paul and Lee blocked a Wednesday attempt by Democratic Senator Kirsten Gillibrand of New York to get the bill to pass by unanimous consent.
"It has long been my feeling that we need to address our massive debt in this country," Pual said. "We have a $22 trillion debt. We're adding debt at about $1 trillion a year. Therefore, any new spending that we are approaching, any new program that is going to have the longevity of 70 or 80 years should be offset by cutting spending that is less valuable."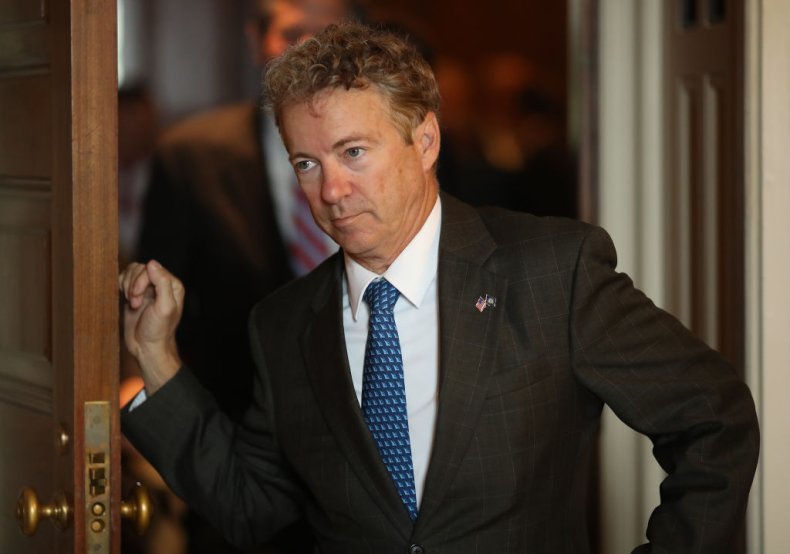 Feal has been highly critical of Republican leaders, accusing them of being the stumbling block to getting the legislation passed. He renewed that criticism on Thursday.
"We're not begging, we're demanding," Feal said. "We don't beg for anything anymore. They work for us and they should be begging for forgiveness for being assholes for the last 15 years, excuse my language."
Last week, he scolded the Republican lawmakers who had not signed on in support of the bill. "How dare they not get on this bill because of political affiliation," Feal said. "Shame on them! They work for us."
In June, Feal classified the Senate – which is led by GOP Majority Leader Mitch McConnell – of being the place in Washington where "bills go to die." He said the upper house of Congress was "run by a bunch of cranky old white men, who are trying to keep control of this country."