9/11 First Responders May Be at 'High Risk' for Dementia, Alzheimer's, Study Finds
For first responders, bearing the burden of the September 11, 2001, attacks may include developing dementia or Alzheimer's.
Researchers from Stony Brook University found that first responders who were at ground zero have to deal not only with post-traumatic stress disorder; they also may be at a "high risk" for neurodegenerative diseases, such as Alzheimer's or dementia. Studies have also found that 9/11 first responders may face an increased risk of developing dementia or Alzheimer's earlier than the average person.
A study that was presented at the Alzheimer's Association International Conference in July showed first responders with cognitive impairment have a "brain age" that's about 10 years older than that in the average person.
"The environmental exposures and psychological pressures experienced by responders during 911 and its aftermath has had an insidious effect on their health and well-being," Dr. Benjamin Luft, director of the Stony Brook WTC Health and Wellness Program, said in a statement. "Now nearly 20 years post-9/11, clinicians who care for these individuals are seeing more patients who are showing signs of cognitive disorders and possible dementia."
At 50 years old, retired firefighter Ron Kirchner, who logged 600 hours at ground zero, started losing his memory, and his wife, Dawn, told the New York Post he doesn't recognize her as his wife. An MRI showed Kirchner's brain was that of an 85-year-old, which Dawn "absolutely" believes was caused by the toxins at ground zero.
Cortical atrophy is rare for people between 45 and 65, and Stony Brook's study found many first responders had atrophied cortexes, compared with control subjects. The level of reduction in cortical thickness in many responders was similar to those of people with dementia. Dr. Sean Clouston, the study's lead author and an associate professor of family, population and preventive medicine at Stony Brook, said it's a possible indicator of "early-stage dementia with possible early-onset dementia" likely to occur at midlife.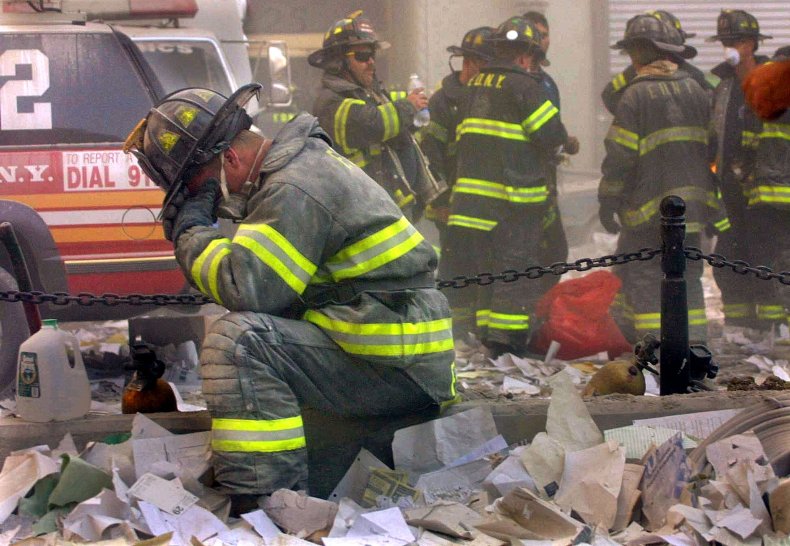 A second study found responders with mild cognitive impairment had problematic changes in proteome (the entire set of proteins expressed by an organism), consistent with Alzheimer's. Luft said first responders with post-traumatic stress disorder may be at a higher risk of developing mild cognitive impairment.
"It's two to three times more likely that 9/11 responders are likely to have mild cognitive impairment—a precondition of dementia—than the general population that is 10 to 20 years older," Clouston told the New York Post.
Additional research is needed to fully understand the impact and risk of being at ground zero, and researchers at Ohio State University's (OSU) College of Nursing and New York University (NYU) are using rats to study the impact of the toxins.
Within 72 hours of the North and South towers collapsing, Dr. Mitchell Cohen at NYU collected buckets of dust. He, along with Loren Wold, assistant dean for biological health research at OSU's College of Nursing, exposed rats for two days to analyze the impact it had on their organ development. Wold told The Alliance Review, an Ohio newspaper, they'll be inspected for a year, the lifespan of a rat, which is comparable to 30 years for a human. Wold expects to see changes in the rats' hearts, lungs and brains over time, with a focus on whether there's a link to heart disease, early-onset Alzheimer's and Parkinson's disease.
"We're 19 years out, so now these first responders who were in their 20-30s are developing early-onset neurodegenerative disease, in particular Alzheimer's-like disease, and so our interest also is in looking at this in the animal model in order to then design therapies to combat these diseases," Wold told The Alliance Review.