How to Watch HBO's 9/11 Documentary 'What Happened on September 11': Live Stream, Air Date, Time and More Info
In an effort to help young students better understand and learn the tragic history of 9/11, HBO will air two new documentaries, What Happened on September 11 and In the Shadow of the Towers: Stuyvesant High on 9/11, on Wednesday, the 18th anniversary of the tragedy.
Directed and produced by award-winning filmmaker Amy Schatz, the half-hour-long documentaries aim to tell the story of the horrific 2001 attacks on New York City's Twin Towers in a sensitive, kid-friendly way children can digest and comprehend.
What Happened on September 11 is set to premiere on HBO at 6 p.m. ET. In the Shadow of the Towers: Stuyvesant High on 9/11 will air later in the evening on HBO at 9 p.m. ET. Both documentaries will be available for live streaming on HBO NOW, HBO GO and HBO on Demand. Viewers with Hulu Live TV subscriptions will also be able to stream the documentaries.
What Happened on September 11 follows a troupe of students from Secaucus Middle School as they visit the 9/11 Tribute Museum in Lower Manhattan. Through conversations with survivors and victims' family members, children will learn the history and significance of the World Trade Center before the attacks while having the opportunity to ask questions about the attackers and Al-Qaeda.
Stephen Kern of Tribute School Group Guides, who was working on the 62nd floor of the North Tower, is also featured in the documentary and will recount his evacuation experience while detailing witnessing the building collapse. Meanwhile, back in the classroom, teachers Melissa Heintjes and Doug Depice help students make an "emotional connection to history" by guiding the kids through art and poetry projects.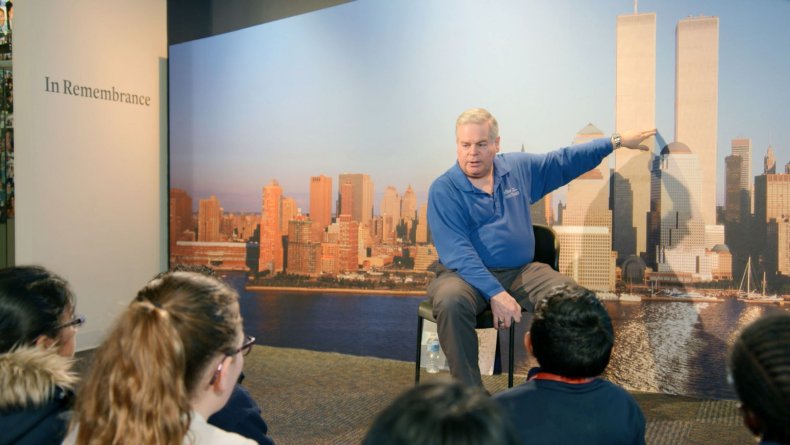 Along with archival photos and footage of 9/11 and the cleanup, the documentary will also highlight the third plane crash into Washington D.C.'s Pentagon and the fourth that occurred in a field in Shanksville, Pennsylvania.
Speaking with USA Today on Tuesday, Schatz said the idea behind the documentary came after a third-grader explained she Googled "Sept. 11 attacks" with a friend during a playdate.
"When a child does that, what he or she finds are some pretty horrific images that are not necessarily appropriate for kids," Schatz said. "So I felt a responsibility to try to fill that void and try to give kids something that isn't horrifying and kind of fills in the gap."
Follow-up project In the Shadow of the Towers recounts the events of 9/11 through the eyes of eight former Stuyvesant High students who were in school on the day of the attacks.