An annual light-show tribute to those lost in the September 11 attacks threatens tens of thousands of migratory birds each year, according to researchers.
The "Tribute in Light"—two beams shining four miles into the Manhattan sky—is created using88 7,000-watt xenon light bulbs positioned into two 48-foot squares on the roof of a garage just south of the 9/11 Memorial.
But every year, the intense searchlights pull approximately 160,000 migrating birds off course, the New York Times reports. Between 2008 and 2016, the light show distracted 1.1 million birds, according to Kyle Horton at the Cornell Ornithology Lab. "The worst-case scenario is that there are birds that collide with buildings," Horton told the CBC, "or the light directly results in the mortality of birds."
The timing of the memorial, which can be seen up to 60 miles away, coincides with the period when songbirds, sparrows and other birds annually migrate down from Canada to the southern U.S., Central and South America.
The density of birds around the tribute is 150 times normal, the Times reports, and the lights also attract, bats, birds of prey and millions of insects.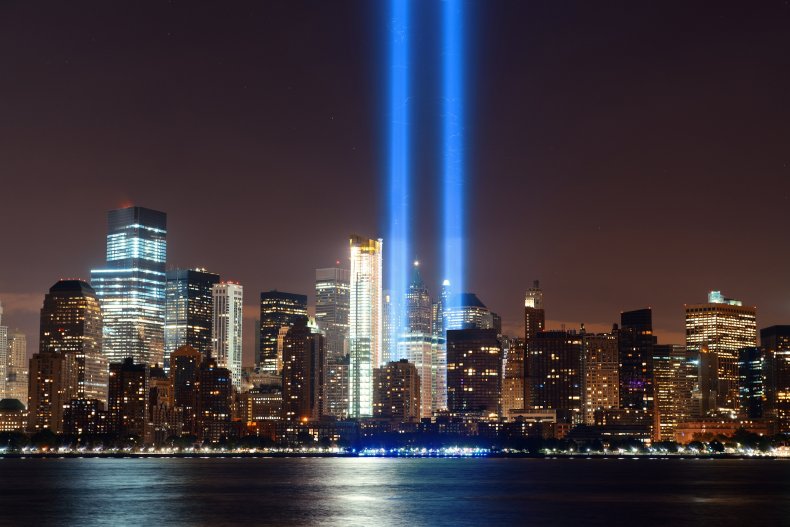 Per a 2009 agreement between the New York Audubon Society and the National September 11 Memorial and Museum, the lights are dimmed for 20 minutes every time volunteers count more than 1,000 birds trapped in the beams.
According to radar studies conducted by the Audubon Society, the breaks are long enough for birds to resume their migration. Still, Horton says, the distraction is tiring for the birds.
"There's no doubt that the birds are expending unnecessary energy by circling and calling in these lights," he told the CBC. That's at a time when the migrating birds need to save some energy for the thousands of kilometers they have left to fly."
The effort to count birds—run by volunteers, scientists and those impacted by 9/11— is an example of the growing field of "community science"—citizens helping professional researchers gather vital data. There's actually a waiting list to to volunteer for the nightlong vigil, which only takes 20 people at a time.
The broader issue, though, is light pollution: Michael Mesure, executive director of Fatal Light Awareness Program (FLAP) Toronto, which aims to minimize avian collisions with buildings, told the CBC that not only are birds attracted to light, but many North American cities are built along lakes, rivers and other migratory pathways.
Data collected from radar studies of the "Tribute in Light" is being used to raise awareness about the ecological implications of light pollution on birds.