9 Best Beer Gardens in Berlin
Beer, sunshine, and sausages are all you need to enjoy one of Berlin's brilliant beer gardens
Beer Gardens and Germany go together like sausages and sauerkraut, like east and west Berlin, like Netflix and chill. And Berlin has some amazing outdoor spaces in which to chug a frothy beer in the warm-weather months. We scoured the city for the best beer gardens in Berlin. Here are our favorite 9 spots.
Click here to view an interactive Google Maps list of the best beer gardens Berlin has to offer.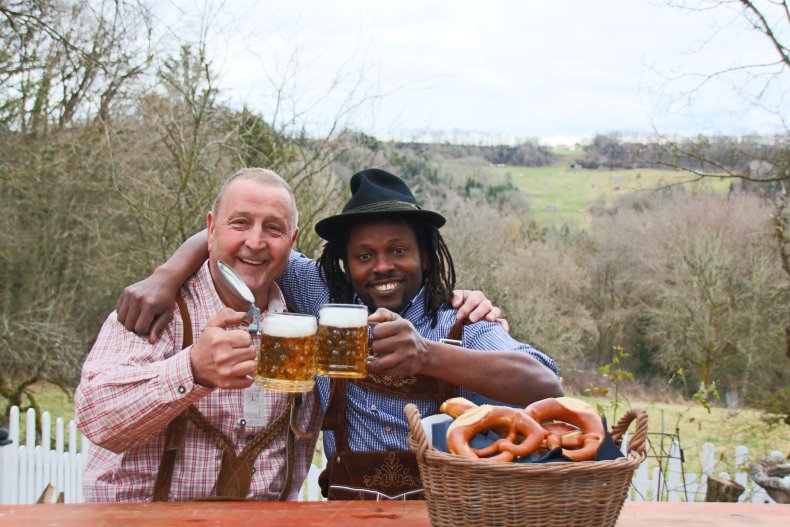 About as funky as they come, Birgit is in southern Kreuzberg hugging a few clubs, making it the ideal pitstop before hitting the dancefloor. The mismatched thrift store furniture, curious wall paintings, and multi-colored Christmas lights, give Birgit & Bier a special, fun atmosphere you won't find at a traditional beer garden. It's not your vater's biergarten! And the ultra-fresh Pilsner Urquell tastes delicious enough to forego the clubbing a bit longer so you can have another pint.
Schleusenufer 3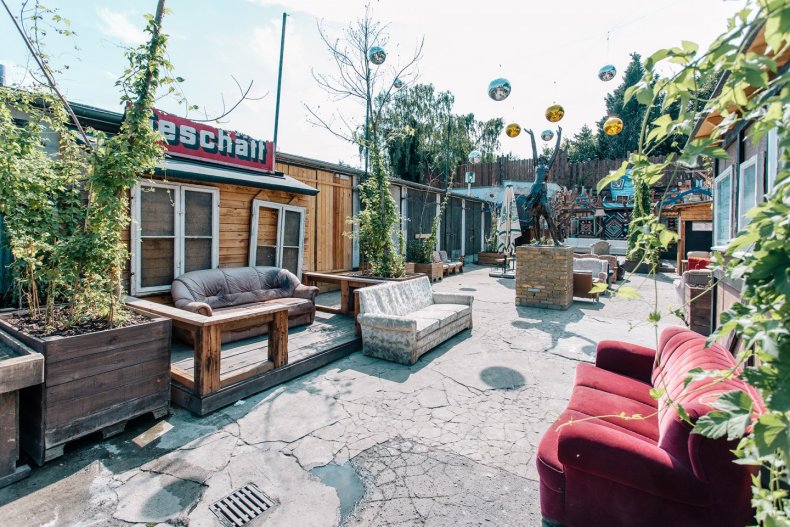 Named for the Slavic word for Berlin, this craft brewery sets up a lovely beer garden in the warm weather months at their HQ in Gleisdrieck, a former railway wasteland that is now a lovely urban park that stretches all the way up to Potsdamerplatz. Brło serves up to 20 of its beers on premises and you can even drink some brews that are not yet available on the market.
Schöneberger Strasse 16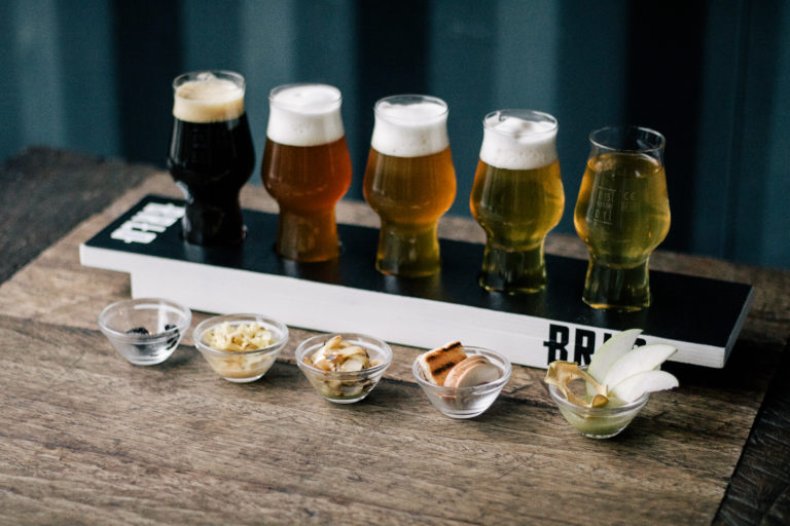 Set in the middle of the leafy Tiergarten, Café am Neuen See is a Gallic-accented restaurant and leafy beer garden in one. Even better, it hugs a lake, offering some blissful watery aesthetics to go with your hoppy golden beer. Graze on traditional German fare as well as pizzas, and then consider renting a rowboat – make sure you have a designated rower though!
Lichtenstein Allee 2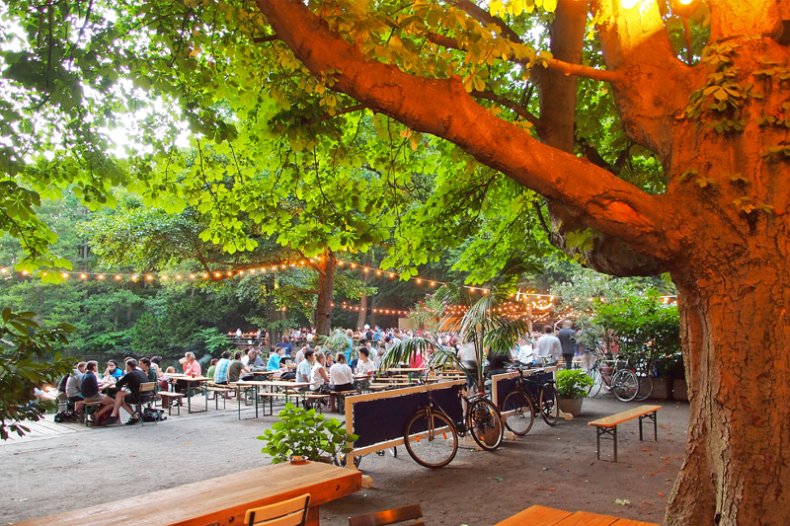 One good reason to trudge up to the Wedding neighborhood is this unique beer garden, set in the courtyard of an unassuming apartment building. There are always three beers on tap – light, dark, hefeweizen – and a smattering of seasonal options from the craft brewery located in the cellar of the apartment building.
Trift Strasse 67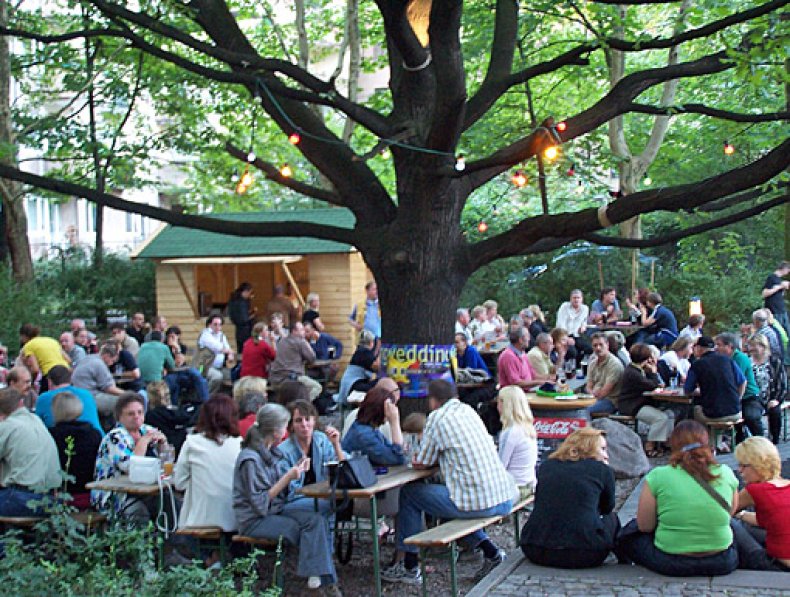 In Viktoria Park in Kreuzberg, Golgatha offers free WiFi, making it a great place to get some work done. And by "work," we mean guzzling some brew. Fill up the stomach with something from the grill – Hhmm ... sausages! – or for the vegetarian imbibers hummus and salad. The beer on tap here offers a range of types, from lagers to dark to hefeweizen.
Katzbach Strasse
One of the most unique places to drink beer, Luftgarten is set in the former Tempelhof-Airport-turned-public-park. The beer garden is named for the Berlin Air Lift, or Die Luftbrücke, which took place here in 1949. The garden, lying near the runway, has a small handful of beers on tap and in bottles and also serves sausages – natch! – and snacks like potato salad and fries.
Tempelhofer Park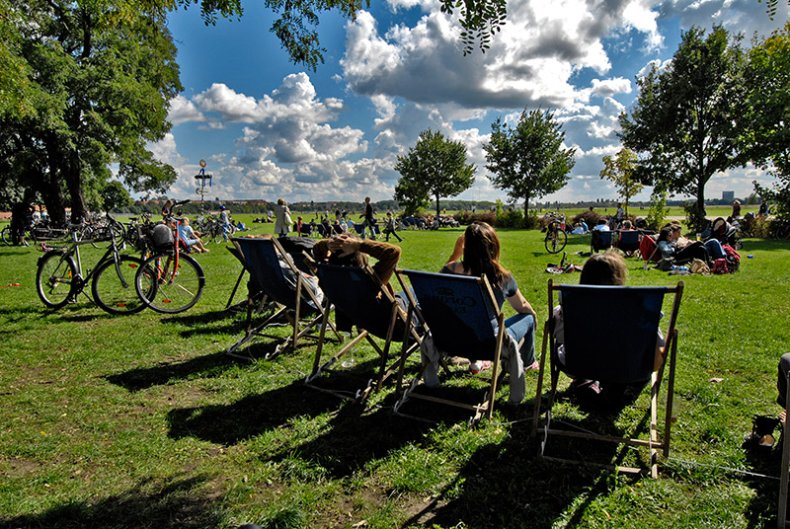 It's nearly impossible to escape the pull of history in Berlin. And beer gardens are no exception. Time your visit to this garden in Mauerpark – named because the Wall used to run right through here – for the eccentric flea market that happens here and the even more eccentric outdoor karaoke that takes place.
Bernauer Strasse 63-64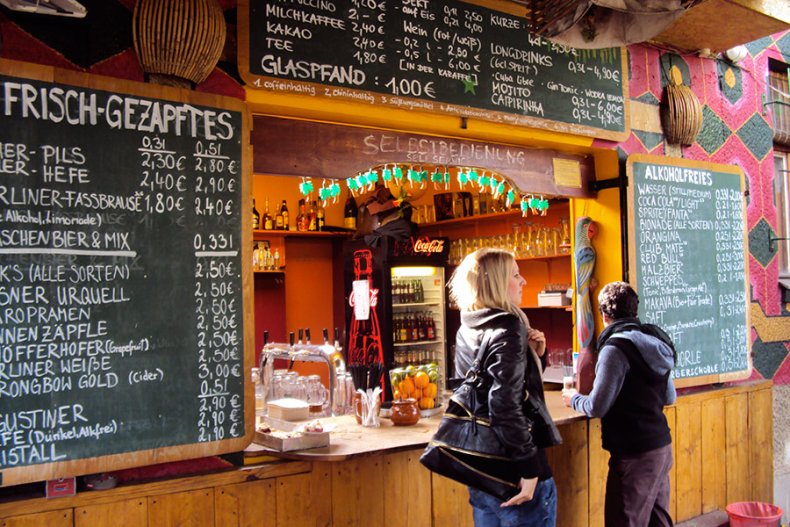 This beloved Prenzlauer Berg beer garden is on every list. And it deserves it. Opened in the mid 19th century, the sprawling space, beset with a legion of picnic tables under a grove of chestnut trees, Prater attracts beer imbibers of every stripe. Sip light and/or dark beer and fill the tummy with hearty Teutonic fare to make the day or night last longer.
Kastanien Allee 7-9
Set in Treptower Park on the Spree River, Zenner is one of the biggest beer gardens Berlin. Up to 1,500 beer imbibers can pack into this leafy space at one time. Now that's a party of Teutonic proportions. Let the sunshine splash you in the face as you fill up on golden lager and sausages.
Alt-Treptow 14