9 Dead, 18 Injured in Waco, Texas Biker Gang Shootout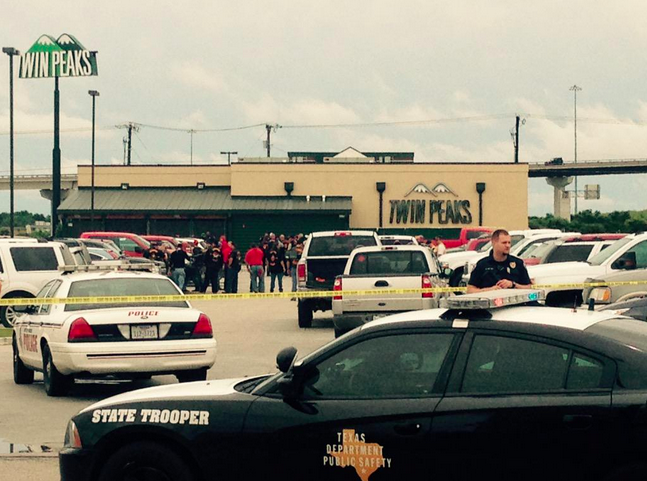 Updated | Five rival biker gangs were involved in a shootout on Sunday afternoon at a Twin Peaks restaurant in Waco, Texas. At least nine were killed and 18 injured, either by bullets or stabbings.
According to The Waco Tribune-Herald, the shooting began inside the restaurant's restroom and escalted in the parking lot. The gangs involved have not been identified, as law enforcement officials do not want to give them publicity. Authorities initially believed only three gangs were involved, but then determined some of the gangs had joined forces and five in total were represented during the incident. Between 150 and 200 biker gang members were involved.
"There were maybe 30 guns being fired in the parking lot, maybe 100 rounds," Michelle Logan, who was dining at Twin Peaks at the time of the incident, told the Tribune. "They just opened fire."
The restaurant was frequented by the biker gangs, Waco Police Sargeant W. Patrick Swanton told the local newspaper. As a result, law enforcement had been monitoring the scene in advance of the shooting. Twin Peaks management had requested police officers be on the scene when the rival gangs first met at the restaurant.
The Waco Police Department was in touch with the corporate offices of Twin Peaks last week. It reached out to corporate again following the shooting. "Our thoughts and prayers are with the families and victims of the tragedy at franchise partner's restaurant in Waco," the restaurant said on Twitter.
"Management knew that there were issues, and we were here, but they continued to let those groups of people into their business," Swanton added.
Guns, chains, knives, bats and clubs were used by the bikers during the altercation. All of those killed and injured were biker gang members, though one officer was treated at a hospital for heat exhaustion. Swanton described the biker gangs as "very dangerous" and "hostile criminal[s]."
Authorities described the crime scene as "gruesome." Three biker gang members were arrested on weapons charges and others have been detained, Swanton told the Tribune. Roughly 100 people were questioned in connection with the shooting.
"There is blood everywhere. We will probably approach the number of 100 weapons," Swanton added. It was the "most violent crime scene" the sergeant had seen in his 34-year law enforcement career.
Following the shooting, biker gang members from throughout Texas began heading toward Waco. Law enforcement closed some local businesses as a precaution.