9 Kids, 3 Adults Who Died in Philadelphia Rowhouse Fire Laid to Rest at Public Service
A funeral service was held on Monday for the 12 people, including nine children, that died in a devastating fire in Philadelphia.
The January 5 fire claimed the lives of sisters Rosalee McDonald, Virginia Thomas, Quinsha White, and their children. It allegedly began after a Christmas tree was accidentally set on fire at a three-story rowhouse, although an investigation is still ongoing and no clear cause has been officially determined.
On Monday, the families' relatives, friends, and neighbors came together at the Liacouras Center on the Temple University campus to pay their respects.
"None of us know what to do with a funeral with 12 people," said the Reverend Dr. Alyn Waller, who presides over the Enon Tabernacle Baptist Church. "We're in a space of grief and pain we wish on no one else."
Many family members also gave eulogies during the service. Rosalee's sister, Dominique Cook, gave an emotional speech promising to honor her and the rest of the victims.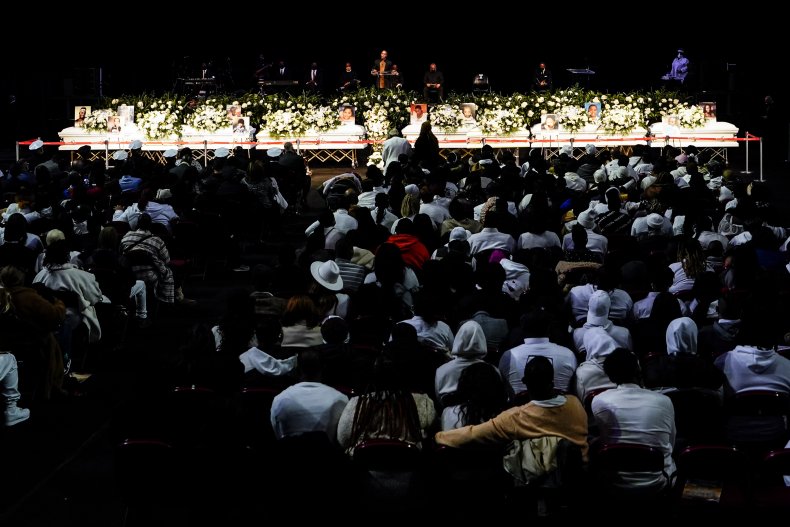 "It wasn't enough time for us," Cook said in her speech, according to local news outlet Philly Voice. "It wasn't enough time for you to show the world what you could be."
Four of the children were remembered by the principal of the school they attended, Bache-Martin School, during the funeral.
"The children certainly made the greatest impression on us. They shared the same sense of responsibility," Principal Mark Vitvitsky said. "That's not always something you can say about children. They knew they were responsible for looking after one another, and you could tell how close they were."
However, the most poignant message came from Howard Robinson, who came home from the hospital mere hours before the fire struck. He expressed gratitude for the last day that he and his four children spent together.
"I got to play with them. I got to hug them. I got to talk to them, run around with them, as much as I could move around," he said. "We spent that whole day together, all of us, and then this happened that same night that I came home. It hurt me so bad that the whole time I was in there, they were waiting for me to come home. I still thank God that he gave me that one day to spend with them before that happened."
He had one important message for mourners, and that is to never take family for granted.
"You never know," he said, "if you got loved ones in this room, just hug them and tell them that you love them because it's sad to say that you never know when that last day is going to come."
During the service, Reverend Waller urged attendants to keep the victims' families in their thoughts and prayers. The importance and power of community were also highlighted in his speech.
"We come to call their names, we come to remember them," Waller said, according to Philadelphia news station KYW-TV 3. "We come to celebrate that even amidst tragedy our city will still yet live. This family will feel our love and we will move forward."