9 Mail Carriers Who Are Proof We Need the USPS Now More Than Ever
It's hard to think of a world without the United States Postal Service. Imagine it, no thrills at finding unexpected handwritten letters in the box, no eye-rolls or sighs upon spotting a stack of bills. Mail is a quotidien part of the American experience and the people who deliver it are its beating heart.
Whether we know their names or not, the people who deliver our mail go above and beyond the normal job requirements. Be it trekking through snow or the rain to deliver our mail, nothing stops them. Sometimes, the job takes an even greater role: one that reminds us how integral mail carriers truly are.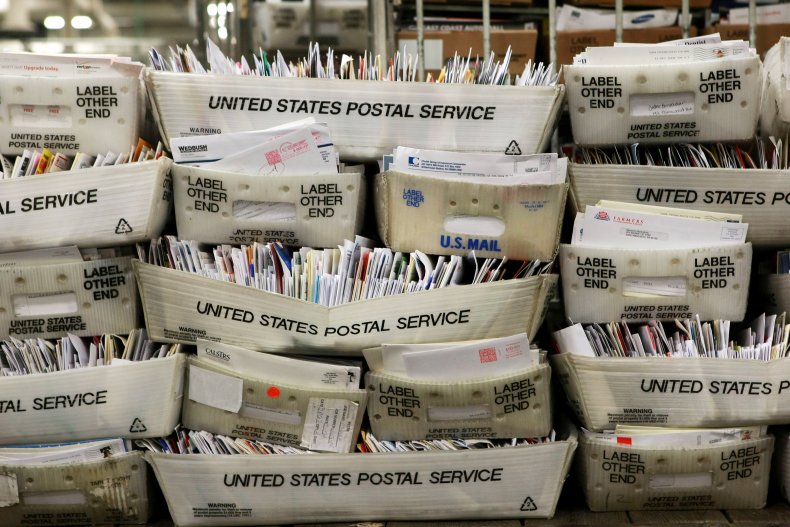 The Literal Hero
Michael Musick, an Anaheim, California letter carrier, literally saved his co-worker's life when she was struck by a car and suffered a nearly-severed leg. According to the Los Angeles Times, Musick acted quickly when the accident happened in February 2018 and tightened his belt around the co-worker's leg. Though she did need her leg amputated, Musick bought time until paramedics arrived, and was later honored as a hero by the National Association of Letter Carriers.
A Dog's Best Friend
A Grand Rapids mail carrier befriended a Golden Retriever named Moose, and their relationship is the cutest thing we've ever seen. Apparently, the two spend a moment together nearly every day as the mailman delivers mail in the neighborhood, The Dodo reported.
The Lifesaver
An 11-month-old child lived through a traumatic choking experience because of his mailman, Chris Brown. The Richmond, Virginia postal worker saved the boy's life when he was choking on a plastic wrapper in 2015, according to CBS 6. The emotional moment formed a lasting bond between Brown and the child's mother, who calls Brown a true hero.
Caring Through COVID
A 23-year-old Ohio mailman, Mailman Kyle, is delivering household essentials to elderly members of his community throughout Coronavirus, CNN reported in April. In order to communicate with the community in lockdown, Kyle slipped notes to the locals and asked if they needed anything from the store. And when some answered, he came fully stocked the next day.
Package Thief Police
When two Chicago package thieves tried to steal a mailman's cart full of Christmas packages in December, the unnamed Postal Service worker put up a fight. While one of the thieves attempted to take packages, he grabbed the thief and didn't let go for six minutes, even after being dragged in an attempt by the robber to break free, according to CBS Chicago.
Because of his heroic action, the mail carrier was able to secure the safety of the packages for Christmas morning.
A Grad's Main Support
COVID-19 saw many high school and college graduates celebrating their giant achievement at home. Even in complete isolation, those celebrations didn't go unnoticed by a New Hampshire postal worker named Josh Crowell. The mailman delivered a list of handwritten notes to new graduates to congratulate them on their giant life moment, according to Click On Detroit. He even gave each recipient a Dunkin Donuts gift card.
A True Bond
Donna the mailwoman formed an incredible bond with a dog along her route and put her love of animals, and her community, in focus when the dog went missing. Donna was the person to find the dog again after searching a handful of animal shelters for the pup, according to ACCT Philadelphia's Facebook page. But the dog didn't have a home, so when Donna found him again, he was looking for a new family. Donna can't adopt him herself, so she told the community how special the pup is in the Facebook post.
A TikTok Queen
An unnamed, Alabama mail carrier stole the hearts of America when she totally photobombed some teenagers making a TikTok. The woman drove directly in front of the girl's camera to deliver the mail and laughed when she found the phone propped up in the mailbox. Her joy and kind demeanor, as well as the instinct to wave at the camera, brought joy to TikTok users everywhere.
A Needed Alert
A Staten Island mail carrier, Lisa Sweeney, listened to her gut in 2017 and called for help, even with no real reason other than a feeling. Sweeney watched the mail of an elderly woman collect for a few days before deciding to call 911. The woman had fallen a few days prior and couldn't get up, according to Elite Herald. The woman has since moved to a nursing home, which Sweeney frequently visits after the pair formed a strong friendship.