9 Photos That Captured the Electrifying Moment Lightning Nearly Hit the Statue of Liberty
New Yorkers were in for a shock on Wednesday—literally—when a giant lightning bolt nearly struck the Statue of Liberty. From all over Manhattan, and its surrounding areas, bystanders watched a giant beam of electricity of a pinkish hue take its time while striking the land near the historic monument.
It may not have been quite as dramatic as A Day To Remember's storm scene, but it was beautiful and terrifying, all at once.
A video of the monumental lighting strike was filmed by Twitter user @_Mikey_Cee. He captioned it, fittingly: "The best video I ever captured."
Cee told Newsweek how he knew, in the moment, it was a special video. "Honestly, just truly blessed to be in the right place right time," he said via Twitter. "It took about 10 seconds into recording for it to happen and I did the best I possibly couldn't not to get excited and shake the camera, knowing I just experienced a once in a lifetime capture!"
The lightning bolt video has been shared by over 20,000 Twitter users, but some have their own footage as well. Photos from Manhattan and Brooklyn surfaced online that captured the giant lightning bolt and others that struck during the storm from a plethora of angles.
Others shared footage of the extreme storm that swept through New York. Rains were so heavy, they blurred vision entirely.
ABC News shared a timelapse that shows the storm rolling in.
In a second video, Cee also questioned if he was in the center of a tornado, apparently due to the extreme winds.
Twitter users are infatuated with the lightning bolt, and while some simply admired nature's beauty during such a violent storm, others compared the bolt's close proximity to the Statue of Liberty to America in 2020.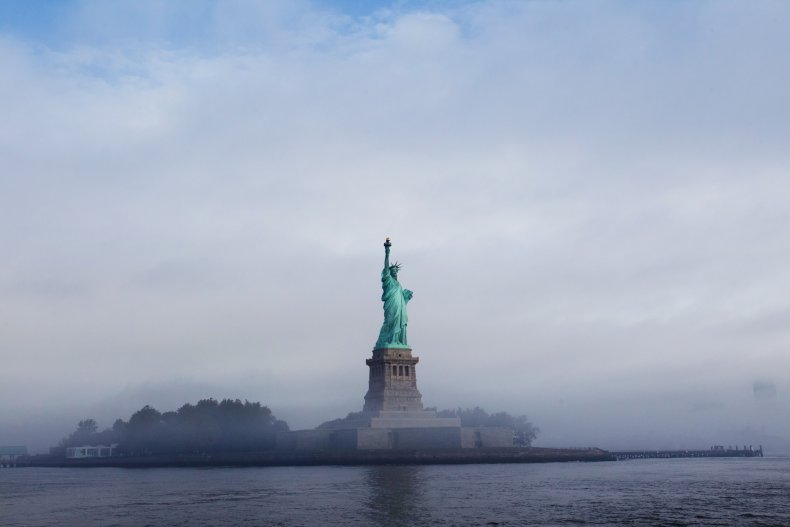 The year's eventfulness has not escaped anyone, from the coronavirus pandemic to the Black Lives Matter movement and an upcoming, polarizing election. A handful of users picked the moment of intensity to make a political statement about the current feeling of the world under the leadership of President Donald Trump.
And the lightning wasn't the only wild thing about the Thursday storm. A church in Queens set one fire during when witnesses claim a bolt of lightning struck the church's steeple, ABC 7 NY reported. No one was inside the church at the time.
The extreme New York weather on Wednesday could be mimicked on Thursday, too. Forecasts show Thursday night may host powerful storms yet again, according to the National Weather Service.