9 Questions About the Rock & Roll Hall of Fame 2020 Induction Ceremony, Answered
The Rock & Roll Hall of Fame Induction must go on. Even though the ongoing coronavirus pandemic has scuttled plans for the Rock Hall's annual live induction ceremony and concert, the Rock & Roll Hall of Fame Foundation announced on Wednesday that it will still salute this year's honorees, with an exclusive special that will air on HBO this fall.
The usual induction ceremony—which would've been the 35th such annual event—was originally supposed to take place on May 2 at Cleveland's Public Hall, according to Rolling Stone. Like so much else in the entertainment industry, though, the show was delayed because of coronavirus, and supposed to happen on November 7. Now plans have changed once again.
"To protect the health and safety of our Inductees, their families, crews and our attendees, we've made the decision that the scheduled live event is not possible," John Sykes, Chairman of the Rock & Roll Hall of Fame Foundation, said in a statement announcing the HBO special.
"Together with HBO and executive producer Joel Gallen, we will still create an exciting program honoring our 2020 inductees, by telling the stories of their incredible contributions to music and impact on a generation of artists that followed them," Sykes added.
If you're hoping to tune into the Rock Hall special when it airs, read below to find out everything you need to know about the upcoming program.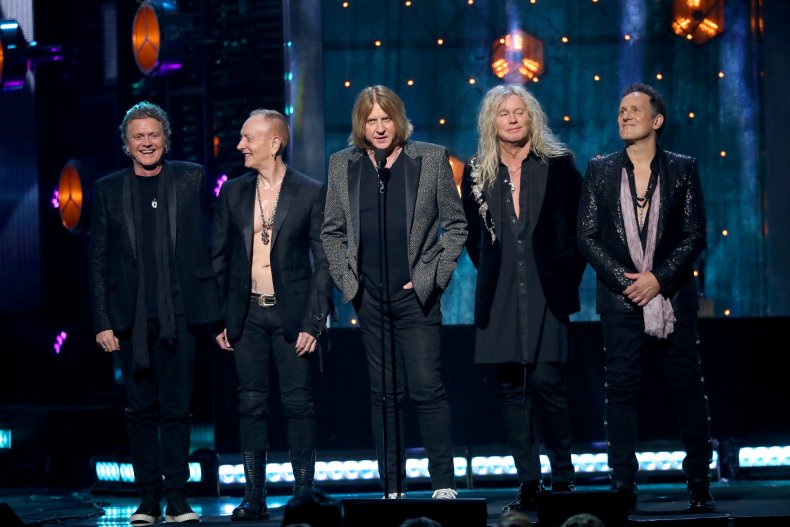 Who are the 2020 Inductees into the Rock and Roll Hall of Fame?
This year, the Rock Hall will welcome Whitney Houston, Nine Inch Nails, the Notorious B.I.G., Depeche Mode, the Doobie Brothers and T. Rex.
The Ahmet Ertegun Award—which, according to the Rock Hall's website, goes to "songwriters, producers, disc jockeys, record executives, journalists and other industry professionals who have had a major influence on rock & roll"—will this year honor manager Irving Azoff and critic-turned-producer-and-manager Jon Landau.
What will the HBO special consist of?
According to the Rock Hall's site, the exclusive HBO special will include acceptance speeches from the artists being honored, archival footage and also interviews with the Inductees and other artists who've been influenced by these literal Hall of Famers.
Will there still be an Induction Ceremony concert?
Sadly, no. According to the announcements that have been made on various social media platforms, the concert that was scheduled for this November has been officially cancelled.
What if I already bought a ticket?
To hear Rolling Stone tell it, anyone who had previously bought an Induction ticket for this year's event will be refunded. If you purchased your ticket through Ticketmaster, the Rock Hall says that you'll get your refund automatically to your method of purchase, within roughly 30 days. (Look out for an email with more details.) People who got tickets through a third-party seller should contact their service provider directly.
Well, how do I watch the Induction special?
Viewers can watch the special on HBO and its streaming service, HBO MAX.
When can I watch the show?
Make sure to tune in on Saturday, November 7, 2020, starting at 8 pm (EST).
Will there still be an exhibit at the Rock Hall honoring these Inductees?
Yes, of course! Who in their right mind would enter Whitney Houston into their museum and not give her a shrine of some sort? The Inductee exhibit will be open to the public starting on Friday, August 14, 2020.
So, what's the deal with next year's induction ceremony?
Beginning in 2021, the annual induction ceremony will be held in the fall. Assuming the 36th Annual Rock & Roll Hall of Fame Induction Ceremony actually takes place next year, it'll happen in Cleveland. (Moving forward, the ceremony will be hosted in the Rock Hall's hometown of Cleveland every other year.)
Is the Rock & Roll Hall of Fame museum open?
Believe it or not, yes! Visitors must enter the museum with a mask and follow social distancing guidelines. At this time, museum tickets can only be bought online and with a credit card. Readers can head here to find out about the updated hours and when live music will take place at the museum.