9 Unexpected World Series MVPs That Surprised The Baseball Watching World
The National League Championship Series (NLCS) for Major League Baseball began Friday night (Oct. 11) with the Washington Nationals defeating the St. Louis Cardinals in Game 1. The ALCS started Saturday night with the New York Yankees playing the first of two road games at the Houston Astros. The NLCS and ALCS champions will square off in the 115th World Series.
The Fall Classic being played since 1903 with the exceptions of 1904 and 1994. There have been incredible stories, colorful characters and improbable finishes. And strangely, there have been some players who have emerged as most valuable player of the Fall Classic as an unheralded guy tucked away on a roster with superstars and potential Hall of Famers.
The World Series will begin on Oct. 22 in a best-of-7 series between the American League and National League champions.
With the Series looming, here are some unlikely MVPs of past World Series.
2011 — David Freese, St. Louis Cardinals
Freese toiled in obscurity on the Cardinals roster in 2011, but he came up big in the Series against the Texas Rangers, who looked poised to win their first-ever World Series.
Freese only hit one home run and seven RBIs with a .348 batting average, but it was a hit that sparked a comeback and fueled his team to winning the Series title.
2006 — David Eckstein, St. Louis Cardinals
Eckstein played behind guys on the Cardinals roster named Albert Pujols and Scott Rolen, yet his bat came up big in a huge moment that cemented the Cardinals winning another title. Eckstein hit 4-for-5 in Game 4, and hit .364 with four RBI for the Series.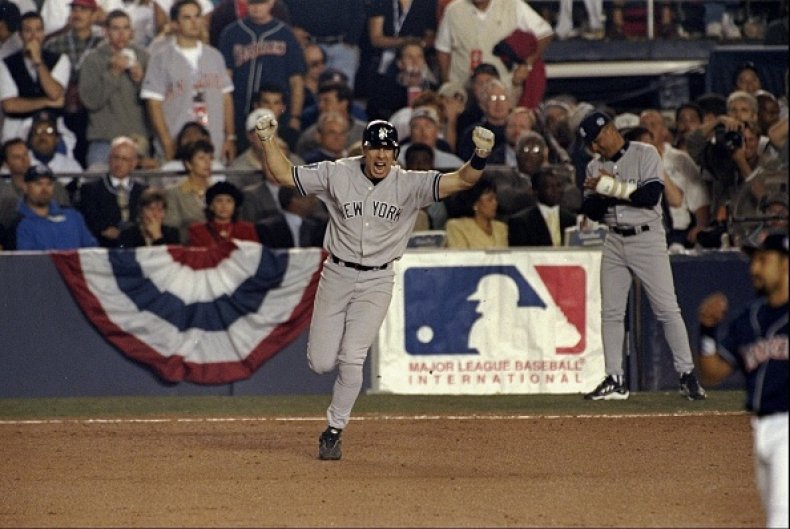 1998 — Scott Brosius, New York Yankees
Brosius was the third baseman on a roster loaded with A-level talent, yet in Game 3 against the San Diego Padres in the Series, he hit two home runs. One of those was against vaunted closer Trevor Hoffman.
Brosius played alongside Derek Jeter, Paul O'Neil, Bernie WIlliams, Jorge Posada, Tino Martinez and a brutal pitching staff that included names like Any Petttitte, David Cone, Mariano Rivera and David Wells for the Bronx Bombers.
1992 — Pat Borders, Toronto Blue Jays
The Blue Jays had a loaded pitching roster, and they had players like Joe Carter, Roberto Alomar and John Olerud in the lineup. But Borders, a catcher, did enough with his .450 batting average, one home run and three RBIs to lead both his team and the Atlanta Braves.
1986 — Ray Knight, New York Mets
The 1986 Series might be most-remembered for the ground ball drifting underneath Bill Buckner's (Red Sox) glove and through his legs to keep the Mets' dream alive in Game 6. The Mets won the game and then the Series in Game 7. Knight was on a roster that included Darryl Strawberry, Lenny Dykstra, Mookie Wilson, Keith Hernandez, Dwight Gooden, Gary Carter and Jessie Orosco—among others in a star-studded group.
1983 — Rick Dempsey, Baltimore Orioles
Rick Dempsey is another catcher not considered among heralded backstoppers who rose above his peers for the World Series MVP. Dempsey's roster mates included Eddie Murray, Cal Ripken Jr., Leo Hernandez and Jim Palmer. Dempsey batted .385 with a .923 slugging percentage in the Series win over the Philadelphia Phillies.
1978 — Bucky Dent, New York Yankees
The Yankees beat the Los Angeles Dodgers during 1978 for the second-straight World Series win, but it was Dent who rose above the rest for MVP. Roster mates included Reggie Jackson, Chris Chambliss, Ron Guidry and more in a Who's Who of Yankees. Dent hit .417 with 10 hits and seven RBIs in the series.
1972 — Gene Tenace, Oakland A's
Catchers seem to be the unlikely MVPs on this list, and Tenace is no different as he shared a roster spot with Reggie Jackson, Denny McLain, Vida Blue, Rollie Fingers, Mike Epstein and Catfish Hunter. Tenace batted .348 in the Series with four homers and nine runs batted in.
1960 — Bobby Richardson, New York Yankees
Richardson was an everyday player, for the most part, at second base for the Yankees, who were loaded with talent and in the midst of a century-long trek of winning titles. In the 1960 World Series, Richardson hit .367 with a home run and 12 RBI—and one home run. He beat fellow teammates Mickey Mantle, Roger Maris, Elston Howard, Whitey Ford and Yogi Berra for the honor.