9-Year-Old Finds 50-Year-Old Message In A Bottle, Turns To Facebook To Locate Sender
Last week, 9-year-old Jyah Elliott found a message in a bottle on a South Australia beach. The letter inside was written by Paul Gilmore, then 13, in 1969. And now it's not just the letter that's been found, but Gilmore himself.
Gilmore wrote the letter on November 17, 1969. The brief missive said, "My name is Paul Gilmore. I am thirteen (13) years old. I am from England, and I am travelling to Melbourne, Australia. The ship is the TV Fairstar, Sitmar Line. We are 1,000 miles east of Fremantle, Western Aus."
"Please reply," closed the letter, along with Gilmore's new address.
Fifty years later, Jyah Elliott found Gilmore's message while fishing with his dad, Paul Elliott, at Talia Beach in South Australia's Eyre Peninsula.
"Jyah wanted to open it, and so he opened it and tried to get it out, but it was a bit damp ... I couldn't get it in my fingers, so we had to break it," Paul told the Australian Broadcasting Corporation (ABC).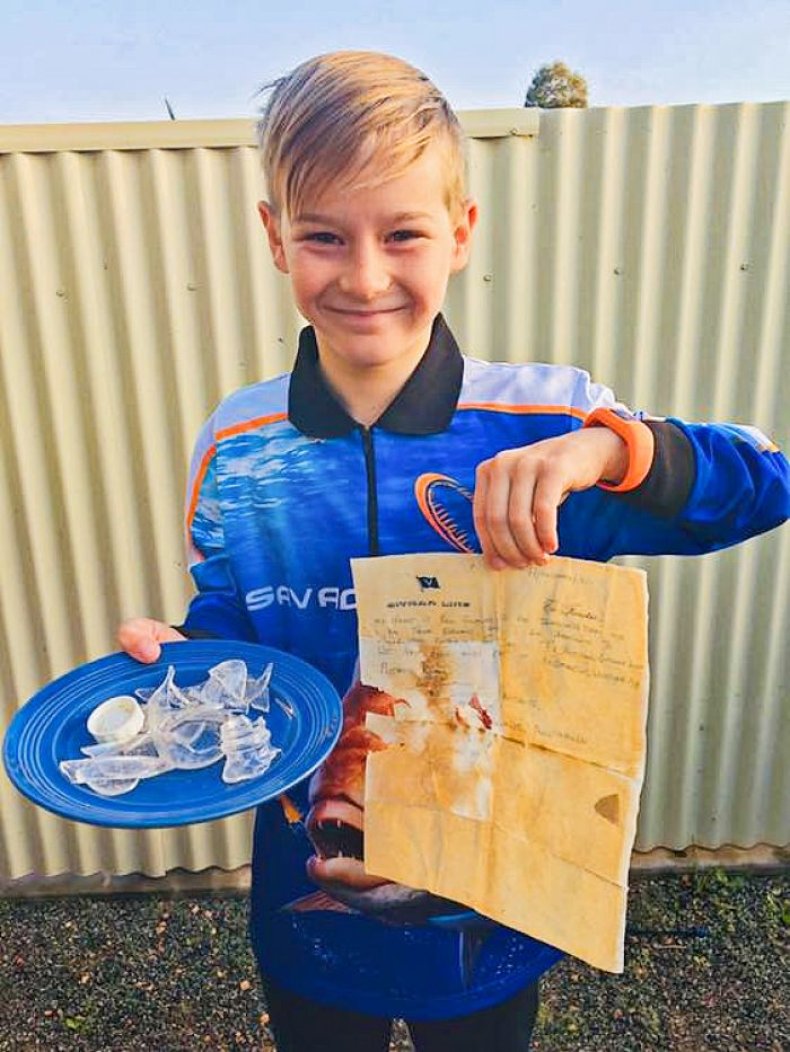 "He was so excited, he said he found a message in a bottle from 1869," Carla Elliot, Jyah's mother, told the ABC.
"I said, '1869? Are you sure about that?' He goes 'oh no, 1969.'"
Jyah wrote a reply to the letter, which he sent to the address provided. Though realizing that in the past 50 years, Gilmore had likely moved, the Elliott family also turned to Facebook.
Soon after the news broke, the ABC was able to track down Paul Gilmore — mostly. As it turns out, Gilmore hasn't yet heard from Jyah Elliott because he's on a cruise in the Baltic.
"It's amazing, absolutely incredible," Gilmore's sister Annie Crossland said to the ABC. "He'll be chuffed to bits."
Crossland said that the Gilmores moved to Melbourne in 1969, but moved back home to England in 1973. She remembers Gilmore writing a number of letters along the way.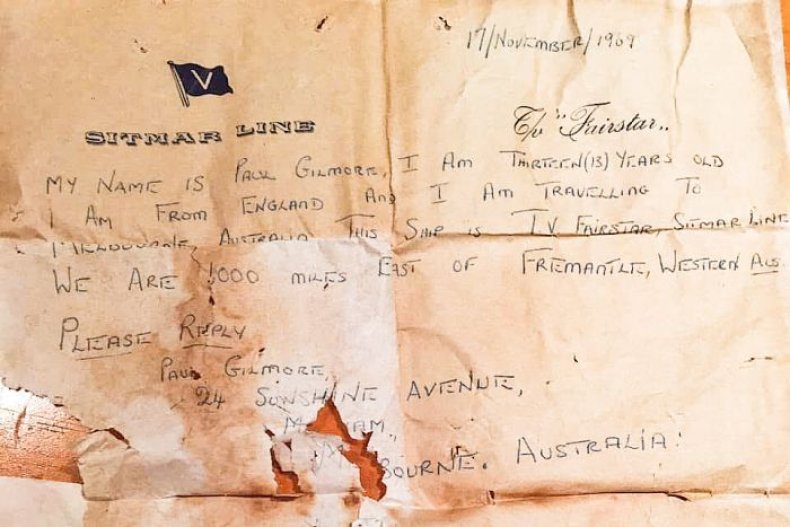 "He sent about six of them, so it's good that one of them has surfaced," Crossland said.
"I don't remember where he got the bottles from ... [but] I remember my dad saying it cost him a fortune in drinks on the ship," she added.
Experts believe that the bottle didn't spend 50 years bobbing around the ocean. Instead, it was likely buried in the sand, and then resurfaced during a storm.
"If it had been dropped in anywhere in the ocean somewhere south of Australia, then there's no way it's going to stay actually at sea moving around for more than a year or two," David Griffin, an oceanographer with the Australian government, told The Mirror.
Though Paul Gilmore may not yet know about Jyah's letter waiting for him, Gilmore's sister says he'll reply as soon as he returns from the Baltic Sea.