9-Year-Old Virginia Girl Born Without Hands Wins National Handwriting Contest
A Virginia third grader, who was born without hands, just won the national award for her impeccable cursive writing.
Anaya Ellick, 9, participated in the Zaner-Bloser National Handwriting Contest under a special needs category and took out the penmanship prize on Wednesday.
"It wasn't really hard," she told WTKR.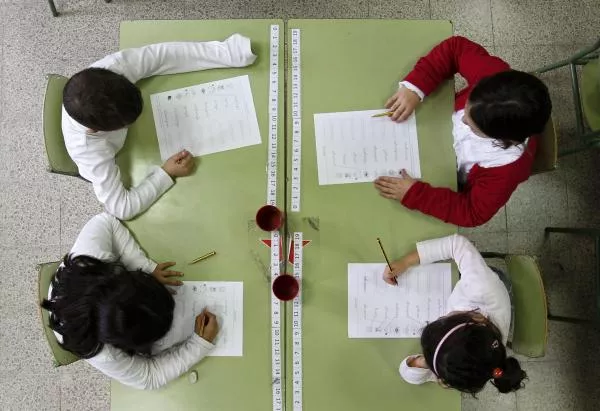 Bianca Middleton, Anaya's mother, said she is proud of her daughter and her respect just drives Anaya to greater heights. "I'm proud because it encourages her… For her to see that hard work does pay off," Middleton said.
Anaya doesn't use a prosthesis, she learned to grip and write with a pencil using her two arms. According to teachers at Greenbrier Christian Academy, although the young girl is relatively quiet and shy, she never fails to constantly inspire those around her.
"Anaya is a role model to everyone," Sara Cannaday, a teacher for the third grade, said.
Anaya is no stranger to winning awards for her penmanship, in 2016 she entered the same competition and won for her print writing.
"I was happy and I thought my mom was joking when she said I won again," Anaya said.
"She's really independent—from tying shoes, putting clothes, getting baths," Gary Ellick, Anaya's father said. "It was always like 'I can do it'. So, that just carried on over the years."
Anaya has revealed to local reporters that she may pursue sports next.
Zaner-Bloser is an Ohio-based company that published research-based handwriting, reading, writing, spelling and vocabulary programs. Each year, Zaner-Bloser hosts a "National Handwriting Contest" for youth across the U.S. The competition has four categories: Manuscript, Cursive For Grades 3-4, Cursive For Grades 5-8 and The Nicholas Maxim Award for Special Needs Children.
The Nicholas Maxim Award was named after a former contest participant from Maine, who like Anaya, was born without hands but possessed immense handwriting talent.
Popular in the Community
{{#values}}
ad choises
{{#isDisplay}} {{/isDisplay}}{{#isAniviewVideo}} {{/isAniviewVideo}}{{#isSRVideo}} {{/isSRVideo}}