'90 Day Fiancé' Update 2019: Fernanda Flores Returns To Instagram After Split from Jonathan Rivera
After taking a nearly two-week hiatus from social media, 90 Day Fiancé star Fernanda Flores broke her Instagram fast on Sunday. The 19-year-old seemingly waited for 90 Day Fiancé to reveal her split from husband Jonathan Rivera after the final episode of their season aired on Sunday.
"Some of the kindest souls I know have lived in a world that was not so kind to them. Some of the best human beings I know, have been through so much at the hands of others, and the will still love deeply, they still care," she wrote. "Sometimes, it's people who have been hurt the most, who refuse to be hardened in this world, because the would never want to make another person feel the same way they themselves have felt."
When compared to other 90 Day Fiancé personalities, Flores has one of the largest social media followings with 244,000 people who subscribe to her Instagram page. The post was liked more than 23,000 times hours after it posted.
Previously, Flores hinted there was something wrong with her relationship when she posted a cryptic message under a black-and-white picture from their wedding on December 31. "'I promise to be true to you in good times and in bad, in sickness and in health. I will love you and honour you all the days of my life' -He said," she wrote. She disabled the comments under the post.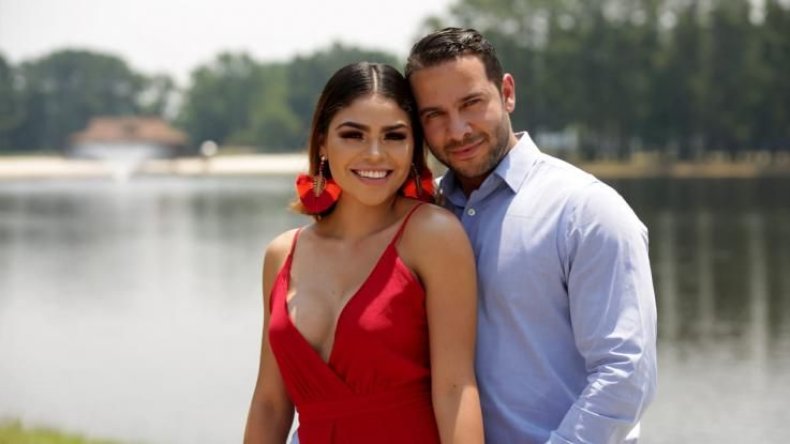 The following day, she shared a video of her shooting a gun. "Beautiful irony is when the very thing tried to destroy you, inside made you stronger," Flores wrote.
Rivera, 32, has also been active on social media since the split. He has posted uplifting messages like what he wrote Sunday. "Life is a canvas," the realtor wrote. "Everyday you're painting your own portrait, and by the end of your life you want to make sure you've created a masterpiece."
The couple's split was first confirmed by Season 6 co-star Ashley Martson, saying the separation seems "legit now" on January 2.
Flores went back to Mexico for Christmas. When she posted that she missed him, Rivera shot back, "She missed me after she decided to leave."
She also deleted many of their couples pictures on Instagram, which Rivera didn't like. "I am not one for drama, I prefer to remain private but I'm not okay with my spouse airing our laundry to get my attention. Deleting me, deleting our pictures then putting them back. I mean, come on," he wrote at the time.
'90 Day Fiancé' Update 2019: Fernanda Flores Returns To Instagram After Split from Jonathan Rivera | Culture