'90 Day Fiancé' Star Ashley Martson Accused of Lying About Wedding by Former Friend, Natalie Crawford
90 Day Fiancé star Ashley Martson canceled her friendship with her bridesmaid, Natalie Crawford, to omit some drama from her life but ending their relationship might have made things worse. Since they are no longer friends, both ladies have been attacking each other's character on social media. Most recently, Crawford indirectly accused Martson of lying about what happened with her wedding party.
Sunday's episode of 90 Day Fiancé showed Martson kicking Crawford out of her wedding party—and life—after she confronted Jay Smith about allegedly cheating. During the show, Martson claimed all the women were in her first two wedding parties, but Crawford claimed that was a lie.
"So let's just talk about this," Crawford wrote Monday to 90 Day Fiancé fan account Savage Edit on Facebook. "Here is Ashley's original bridal party when we went to the bridal shop to pick out and order dresses! As you can see there is only Ashley and one other girl that was then on the episode! Everyone else dropped out!!! And for the record the same girl and I were the only ones that were apart of any other previous bridal party. Good try!!! Sucks throwing away one of your only real friends doesn't it!"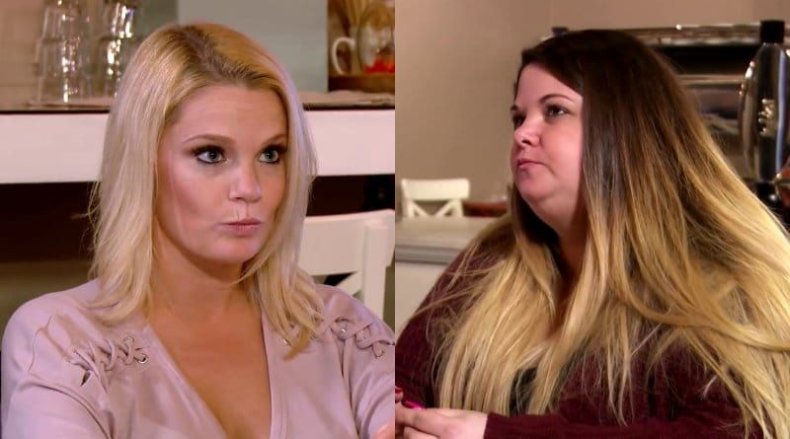 The hits didn't stop there. Following Crawford's accusation, Smith took to Instagram to expose Crawford's criminal record. He nicknamed her "Shoplifter Sally" after she was charged with two counts of retail theft and disorderly conduct in February 2017. She pleaded guilty.
Since Crawford accused Smith of cheating on Martson, he deemed it fitting to show she once tried to "cheat" the system by allegedly stealing. "Seems like shoplifter sally is looking for attention," he wrote, "Now saying she lost her friends because of me cheating? Well here you go #NatalieCrawford here's some attention for your a**! Speaking of cheating? This is just one wrap sheet from your many bouts of stealing...what about all those stores you cheated out of money."
Crawford reportedly threatened to leak a picture of Martson's bruised face after her ex-fiancé allegedly assaulted her. "She literally saved this photo from years ago, a photo I don't even have anymore," Martson wrote. "I'm posting this because Natalie is literally posting every detail of my shitty past. I know this is coming next."
Season 6 of 90 Day Fiancé airs on Sundays at 8 p.m. ET on TLC.