'90 Day Fiancé' Star Darcey Silva Teases If She and Jesse Meester Are Still Together in Exclusive Interview
90 Day Fiancé: Before the 90 Days star Darcey Silva might be best known for her turbulent relationship with Jesse Meester from the popular TLC series but Silva is much more than a reality star. Aside from her stint on TV, Silva released music with her twin sister, Stacey, operates the clothing line House of Eleven and has plans to expand her burgeoning empire further.
In Season 2 of the 90 Day Fiancé spinoff, Jesse travels to the U.S. to get to know Darcey better. He meets her twin sister and children and gets to explore the country but the volatility that existed in Amsterdam followed them to the east coast. Jesse is critical of Darcey, whether it's how much makeup she wears or how she likes to eat a slice of pizza. But Darcey, who is nearly 20 years older than Jesse, isn't letting him hold her back.
Since last season, Darcey released the upbeat song "Lock Your Number" with her sister on August 9. She also embarked on a weight loss journey, losing 20 pounds from changing her eating habits and exercise routine. Now, she hopes to empower other women through her journey.
"I just feel happy with myself and I was ready to make that transformation. I want to stay as healthy as I can for me, my family and my kids," she told Newsweek in a phone interview. "I'm turning 44 soon so I want to stay as healthy as I can."
Darcey did Pilates in China, where her father is based for work, for six weeks with a trainer. When she returned home to Connecticut, Darcey continued with Pilates, adding a resistance band and morning walks into her exercise routine. The walks also help her relax and clear her mind.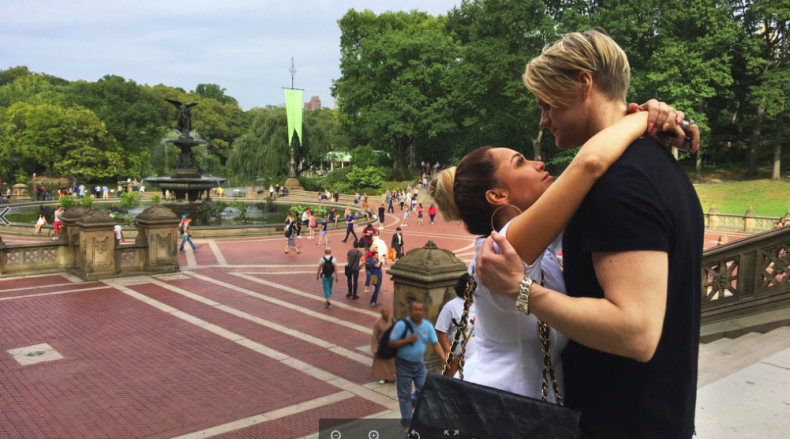 Darcey has taken steps to better her life but watching recent episodes of 90 Day Fiancé hasn't been easy. She and Jesse fought numerous times on Sunday's episode along, with Darcey begging Jesse not to leave her in one heartbreaking moment.
"It's not easy to watch because you wear your heart on your sleeve. It was an emotional time, but I rise above it," Darcey said. "I always want to stay positive so it's hard to relive that time. ...I try to make the best of it."
"I just don't ever want to seem like I'm a desperate individual or I'm weak because I'm not," she added. "You have to find that power within yourself."
While there were some people who told her on social media to stay strong, not all netizens were supportive. "I know haters sometimes want to take you down, but I'm not gonna let that happen," Darcey said. "I feel like I'm in a positive state and loving myself."
As far as whether she and Jesse were still together, Darcey didn't give anything away. "Well, I guess you're going to have to watch the show and find out," she teased.
To find out what happens next, don't miss 90 Day Fiancé: Before the 90 Days when it airs Sundays at 8 p.m. ET on TLC.