'90 Day Fiancé': Jonathan And Fernanda Split Before 2019, Ashley Confirms
90 Day Fiancé favorites Jonathan Rivera and Fernanda Flores seem to have split before the new year, according to their social media and a confirmation from a fellow cast member. The couple seemed to be one of the least volatile on the show's Season 6, and it's unclear exactly why they chose to end the relationship.
Ashley Marston, who appeared on Season 6 with the couple, confirmed the couple has split to 90 Day Fiancé blogger John Yates in a text conversation obtained by Newsweek. She claimed she'd spoke to Jonathan and the separation seems "legit now."
According to Jonathan, Fernanda chose to go back to Mexico. She shared a snap of her Mexico passport on her Instagram story on December 24, but did not disclose where she was heading. From there, the pair appeared to spend Christmas separately, posting different family photos, but Fernanda later posted a holiday photo from Chicago's Millennium park. Jonathan's family lives in Chicago.
Jonathan was vocal about her decision to leave in Instagram comments screenshotted by Yates. When a fan said they were confused because Fernanda wrote she missed Jonathan on her Instagram, he clarified. "She missed me after she decided to leave," Jonathan responded.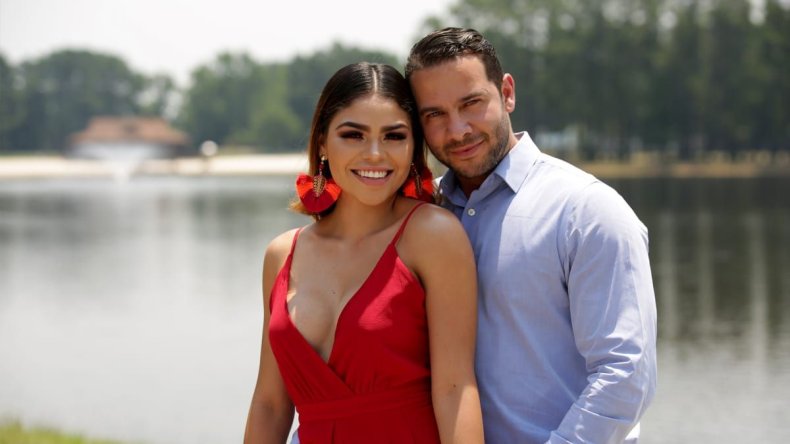 The reality star also noted Fernanda had deleted all photos with him on her Instagram account. "I am not one for drama, I prefer to remain private but I'm not okay with my spouse airing our laundry to get my attention. Deleting me, deleting our pictures then putting them back. I mean, come on," he wrote.
One user pointed out Fernanda's age, 19, and said you can't expect anything else from someone so young.
The seemingly ex-couple also got into a comment exchange themselves, surrounding their families. Jonathan claimed Fernanda's family was "on his side" to which she responded, "what are you talking about?"
Sunday's episode of 90 Day Fiancé showed the couple's marriage. Fernanda posted a photo from the day with a comment seemingly aimed at Jonathan. "I promise to be true to you in good times and in bad, in sickness and in health. I will love you and honour you all the days of my life, -He said," she wrote on Monday.
She later posted a video of herself shooting a gun, captioned "Beautiful irony is when the very thing tried to destroy you, inside made you stronger."