'90 Day Fiancé' Where They Are Now: Are Fernanda Flores and Jonathan Rivera Still Together?
Some fans were curious if Fernanda Flores and Jonathan Rivera were still together, and Sunday's explosive episode of 90 Day Fiancé, Flores had moved from Mexico to be with her fiancé in North Carolina, but adjusting hasn't been easy. Not only did Flores confide in one of Rivera's friends after she found another woman's pair of underwear, she cried about missing her family and threatened to leave the U.S. after she caught Rivera dancing with another woman in the club during a preview for next week's episode. While things are rocky between the two, who have a 12-year age gap, they're still going strong. In fact, Flores and Rivera watched Sunday night's episode together with some friends.
Flores, 19, posted the get-together on her Instagram story and they were all laughing. Flores giggled during the scene where Rivera joked about having too many hangers.
She watched in silence when they got into the fight about him dancing with another woman. Flores throws someone's drink and runs out of the club. "What the hell are you doing? That girl was dancing with my fiancé. I'm here alone. You don't know how I feel," Flores says in the preview for Sunday's episode. "I can't do this."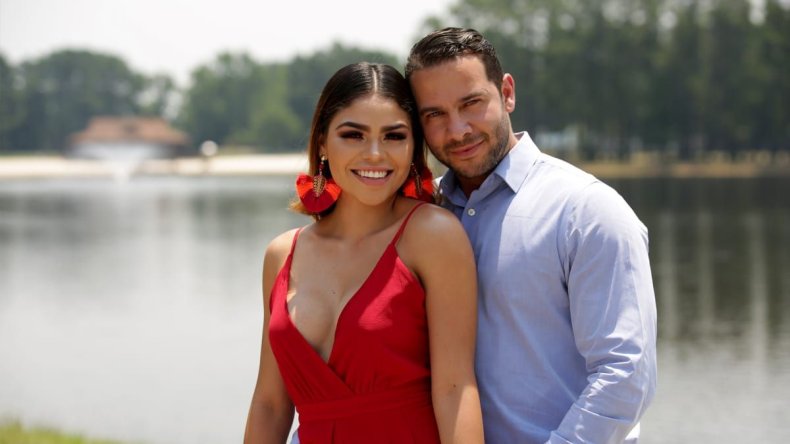 While things might have been volatile at the time, everyone at the party was laughing. "He's like what, what did I do? I wasn't dancing with her," one friend says. "That's what happened," Rivera confirms.
Before Sunday's Instagram stories, Flores and Rivera donned Day of the Dead attire to celebrate Dia De Los Muertos, which started Wednesday and ended Friday.
"Love is stronger than death even troubled it can't stop death from happening, but no matter how hard death tries it can't separate people from love. It can't take away our memories either in the end, life is stronger than death," Flores wrote.
"No relationship is all sunshine but two people can share one umbrella and survive the storm together," she added in a previous post.
Don't miss episode 4 of 90 Day Fiancé when it airs at 8 p.m. ET on TLC.