Is '90 Day Fiancé' Star Leida With Eric for the Green Card? 'This Is Over,' He Says
90 Day Fiancé star Eric Rosenbrook seemingly reached his boiling point with fiancé Leida Margaretha on Sunday night's episode. The two got into an argument while shopping for furniture. Margaretha comes from a wealthy family in Indonesia and she admitted she was giving up her "luxuries" to marry Rosenbrook. He generally yields to Margaretha—until she suggested he give up his parental rights so he would have more money for her.
"What will make you happy?" Rosenbrook says with a raised voice. "Me giving up my parental rights or me giving you a $1,000 a month in your pocket?"
She tells him she "deserves" both.
"You don't deserve me giving up my children," Rosenbrook spats back.
"Then don't get married with me then," Margaretha responds.
What she might not have predicted was how Rosenbrook would respond to her suggesting he give up his children, especially since she is a parent herself. "For you to ask that I give up my parental rights is wrong on a moral level. It is inhuman to demand that," he says.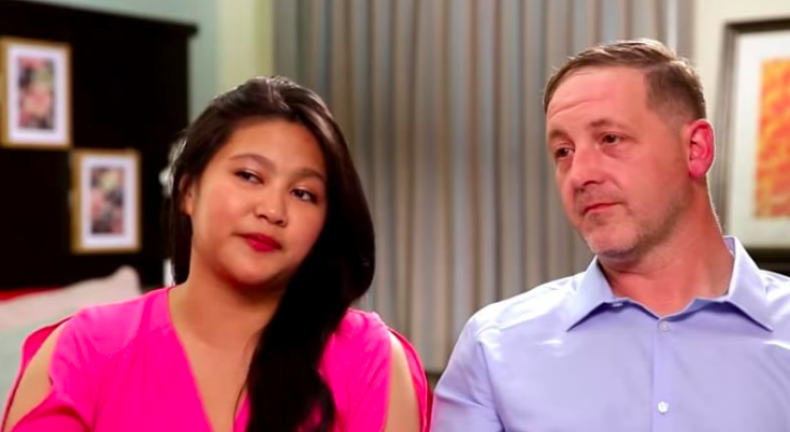 "I don't like it," Margaretha adds.
"Then you're going home because I refuse to give up my child," Rosenbrook says. "I don't care how much I love a person I can't put them before my kids. I do wonder if the green card is what it was all about. It makes me feel sick. This is over."
Aside from Margaretha wanting her fiancé to give up his parental rights to one of his children, she also openly feuded with Tasha, the daughter who lived with him before Margaretha and her son, Alessandro, moved to the U.S. "I've hated her since she started attacking my friends on Facebook," Tasha said in an Instagram Live session with a fan, saying she hated her future stepmother "before she moved here."
Even though their relationship is tumultuous on the TLC series, Rosenbrook and Margaretha are likely still together. They recently posted pictures together on Instagram, some of them more salacious than others.
As recent as hours before Sunday's episode aired, Rosenbrook posted a picture of himself with Margaretha to his Instagram Story.
Margaretha's background has always been a potential issue, as noted in their bio on TLC's website. "Eric is fully aware that the life of luxury Leida is used to might make it challenging to adapt to his middle-class lifestyle," it reads.