'90 Day Fiancé' Star Angela Slams Woman For Private Messaging Michael
90 Day Fiancé star Angela Deem expressed numerous concerns about trusting her beau Michael Ilesanmi before her trip to Nigeria, with friends and family telling her that he was likely scamming her for a green card. Angela ignored the advice from her loved ones and proposed to Michael on the show's last episode. When a random woman from the internet tried to woo Michael, Angela took to Facebook Monday to slam her, but she didn't seemed threatened.
"Wow X-mas cards this early...Santa coming... Ho ho hi LMAO," she captioned the post.
If things didn't work out with Angela, the woman said she would like to marry Michael. "Hello, Michael, my name is Kim. I just wanted to tell you that you are such a good man. I am very attracted to you," the woman wrote, according to screenshots Angela shared. "If for some reason you might [sic] Angela do not get married, I would love to marry you and help you get your green card to come live with me in the U.S. Please send me a message back and let me know how things are going with you."
She also included pictures of herself. "Here are two pictures of me. I love you Michael just from seeing you on TV. I am so much in love with you. Please write me back so I know you got my message okay. God bless you."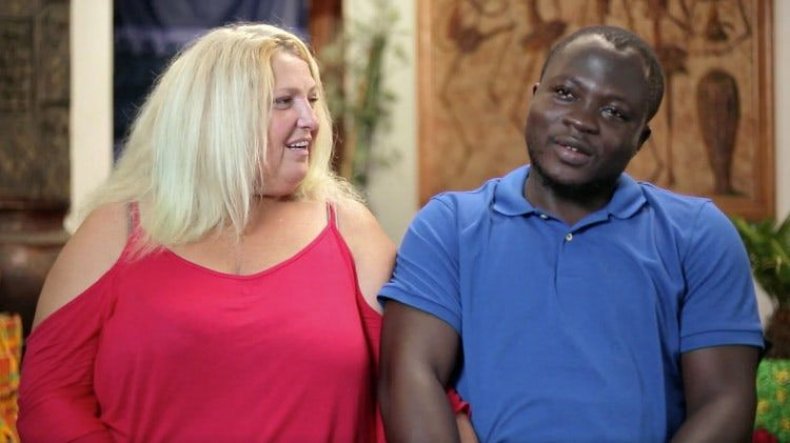 When someone in the comments wrote back that "Kimmy" could have Micahel, he responded, "So I don't deserve my babe?" He denied that his only reason for being with Angela was to get into the U.S. "You [are] totally wrong u [sic] don't judge a book by its cover," Michael, who goes by the name Kehinde Ilesanmi on Facebook, wrote. "You deserve no explanations from me. Bye."
It's generally the suspicion on 90 Day Fiancé that not all the couples are authentic. For instance, when Angela proposed to Michael, she wrapped the ring in an American flag and he gleefully said that he was going to America. When Jesse arrived in the U.S. to visit Darcey, he was thrilled with the sight of the American flag. As for Tarik's fiancée, Hazel, she said that her sister would set her up with a Japanese man who made more money, making Tarik concerned she cared more about her financial situation than him.
90 Day Fiancé: Before the 90 Days airs Sundays at 8 p.m. ET on TLC.