'90 Day Fiancé' Star Molly Hopkins on Dating, Weight Loss, Livi Rae Lingerie and Life Without Ex-Husband Luis Mendez
90 Day Fiancé star Molly Hopkins is doing just fine since ex-husband Luis Mendez left her and remarried five months later. In fact, the lingerie mogul is dating, focusing on her weight loss journey and raising her two daughters, Olivia and Kensley. Even more exciting, Molly's latest happenings can be seen in 90 Day Fiancé: What Now?, which is currently streaming on TLC Go.
In a recent phone interview, Molly told Newsweek she is "busy as ever" with her company, Livi Rae Lingerie. "I've actually gotten busier and I've been traveling all over the United States," she said. "I'm just trying to get my life back in order."
One of the biggest parts of Molly's life is her lingerie business. While she's become renowned for fitting plus-size and curvy women, Livi Rae has bras for women of all different shapes and sizes. And making women feel good about their bodies is what Molly wants to be best known for—not as a 43-year-old woman who married a 27-year-old man.
"I want to be remembered for being a badass at bra fitting and helping women through troubled times, not as some desperate cougar that married a boy from another country," she said. In the near future, Livi Rae Lingerie will be appearing in several fashion shows and Molly has been asked to speak at women's empowerment seminars.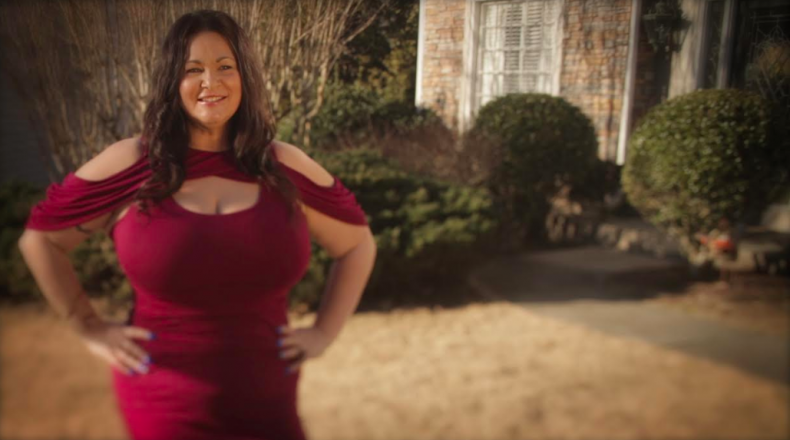 While she was heartbroken when Luis first left, there are plenty of men vying for her affection. "I'm just trying to keep it moving, trying to keep the suitors at bay," she joked. "I get tons of DMs from people who are like, 'You're amazing. I want to marry you.'"
It wasn't easy wading through the dating pool, but Molly said she finally found someone who is "fantastic." She described her new guy, whose identity she didn't reveal, as a smart guy who has "a lot to bring to the table… I'm pretty pumped about it, honestly."
In addition to dating, Hopkins recently embarked on a weight loss journey and dropped 40 pounds. Some people wondered if she underwent surgery or took a weight loss pill, but Molly credits her success to detox teas, exercise, and cutting back on dairy.
"I've always been challenged with my weight my whole life," she told Newsweek. "I'm a stress eater so if I'm happy or sad I eat… I don't want to be unhealthy and I wanted people to see that you can lose weight the old fashion way. You don't have to go and have surgeries and do all this stuff."
Molly was adamant that she did not have surgery. "I mean that's the first thing everybody said, 'Oh my god, she had liposuction,'" the 90 Day Fiancé star recalled. "I wish I could afford to take off from work for that long, that would be amazing. I promise you, if I had surgery, I'd be coming out looking like a new person. You all might not even recognize me if I was gonna go there."