Are Nicole and Azan Still Together? Everything We Know About the '90 Day Fiancé' Relationship
Nicole Nafziger and Azan Tefou have appeared on 90 Day Fiancé and its spinoffs a handful of times, but the progress of their relationship seems to have stalled. The couple pushed back their marriage, and is only able to see one another in person when Nicole visits Azan in Morocco, because of Azan's long journey to get a K-1 visa in the United States.
Viewers are watching Nicole and Azan again on 90 Day Fiancé: Happily Ever After. Two weeks of the show have already aired on TLC Sunday nights, showing the couple planing a vacation to see each other somewhere other than Morocco. In planning, it was revealed that Nicole once tried to meet Azan in South Korea, where he didn't need a tourist visa. Still, he was turned away at customs, and Nicole lost more than $1,000 on the trip that didn't happen.
Though their plans for the future are slow-moving, Nicole and Azan are still very much together today. Nicole shared a photo of Azan on her Instagram Thursday. The photo is of the pair on Skype, seemingly falling asleep. Azan is in a dark room, while Nicole's photo seems to have lights on. The caption expressed hope and excitement for the day they can see each other again. "Being so far away is hard on us so being able to Skype and sleep together makes me happy," Nicole wrote. "So soon we'll be by each other's side again."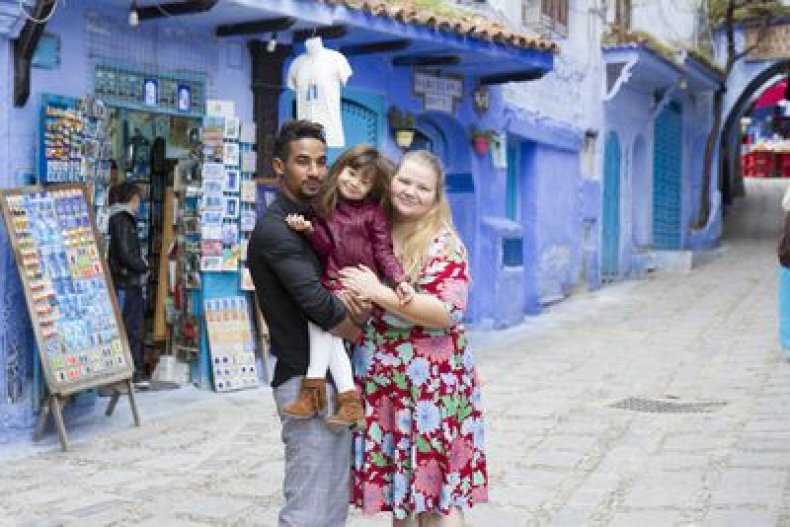 Part of Nicole's vacation conversation with Azan focused on the religions of the countries they were looking to visit. Nicole was seemingly aiming for a Christian country, so the pair could share a hotel room. Nicole has previously been upset by Morocco's strict rules against showing affection in public, as well as sharing a bedroom, as seen on 90 Day Fiancé.
Nicole posted a video of her heading to the airport on her Instagram story Friday. Some fans seemingly assumed she may be on her way to visit Azan in Morocco. Instead, Nicole clarified she's flying to New York with her mom. The last time she posted a photo with Azan was in April, though it's unclear if they were together, or if it was a photo she posted late. Nicole also posted a photo of her engagement ring on March 15.