Are Nicole and Azan Still Together? Danielle Jbali Gave '90 Day Fiancé' Star Relationship Advice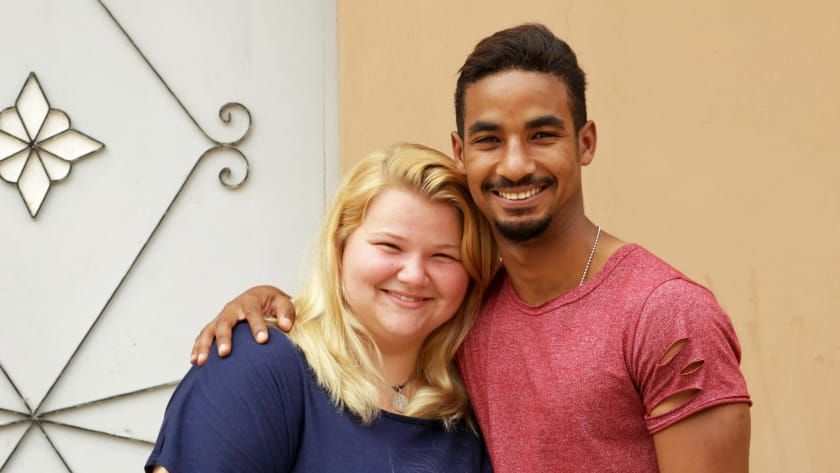 Despite what some viewers might think, 90 Day Fiancé: Happily Ever After? star Nicole Nafziger wants to move forward with her marriage to fiancé Azan Tefou. When he was denied a K-1 fiancé to live in the U.S. with Nicole and her family, she moved to Morocco to pursue her relationship. Before she moved there, however, Nicole caught Azan talking to other women—and that's something 90 Day Fiancé alum Danielle Jbali knows something about.
In Danielle's case, she and Mohamed Jbali fell in love online. He came to American to marry her on a K-1 visa and they tied the knot. But the good times didn't last. Shortly after they said, "I do," Danielle found out Mohamed was talking to other women. Ultimately, Mohamed moved to Florida to be with another woman and they divorced. Danielle decided to keep his last name.
Since she has some experience marrying a man from another country who might potentially turn out to be a fraud, Danielle offered some advice to Nicole: Go to Morocco to see what Azan is really like.
"I have talked to Nicole in the past and I advised her to go over [to Morocco] more than once—which she has done that," Danielle told In Touch Weekly on Wednesday. "But then, it hurts me because there were conversations that came up with Azan and other women—that's something that happened with me and Mohamed."
It's not to say Danielle was confident the relationship would work out, but it might help. "That's why I told her to go over more than once cause maybe she could get a better feeling if she went over more than once," she said.
As some Reddit users noted, Azan seemed less than enthused to marry Nicole when they were talking about marriage on Sunday's episode of 90 Day Fiancé: Happily Ever After?
According to Nicole's Instagram page, she and Azan are still together. She describes herself a loving mother, daughter, friend, sister and fiancée.
Last month, she posted a cryptic message that was seemingly aimed at viewers of the TLC show. "My life. My choices. My mistakes. My lessons. Not your business," the message said. "Honestly. TV or not."